After Facebook Hollywood Dishes Out A Movie On Google With The Lead Actors Of The Wedding Crashers
When it comes to success stories from Silicon Valley a lot of companies stand out for their innovation and quality of products. Google is certainly one among these many organizations with Apple, Microsoft, Facebook being some of the others. There is however no occurrence of Google in mainstream pop culture unlike some of its counterparts. This will however change in the summer of 2013 with the release of the first movie on Google, titled "The Internship" starring the dynamic duo of Owen Wilson and Vince Vaughn from the Wedding Crashers.
Apple, Microsoft and Google, three behemoths of the technology industry together have a valuation of close to one trillion Dollars ($ 1,000,000,000,000). At the time of publishing of this feature each of them individually had a market capitalization of $432 bn (AAPL), $235 bn (MSFT) and $266 bn (GOOG) respectively with Google crossing the $800 mark to become one of the most expensive stocks to own on the market.
While Apple and Microsoft were founded in the mid 1970s and are in currently in their late thirties, Google is much younger having completed only fifteen years since its inception in 1998. Even then, the company which went public less than 10 years ago is hugely profitable with an ambition to conquer the world through their various technolgies such as Google Glass, Self Driving Cars etc. When it comes to being sought by Hollywood however, Google hasn't received a lot of love as no one knows about a movie on Google yet. One would imagine that stories about the various successful start-ups in Silicon Valley which have grown to become multi-billion dollar global companies make for excellent scripts for Hollywood directors to work on. Interestingly though only Apple, Microsoft and more recently Facebook have appeared in mainstream Hollywood movies.
The story of Apple and Microsoft was shown for the first time in Pirates of the Silicon Valley which was a made for television film that released in 1999. Noah Wyle played the role of Steve Jobs while Anthony Michael Hall essayed the role of Bill Gates in a movie that documented the impact of the rivalry between Apple Computer and Microsoft on the development of the personal computer in the 80s. Noah actually got the rare opportunity to imitate Steve at Macworld in 1999 sharing stage with Steve Jobs himself, a feat which no one else will be able to achieve again.
11 years later, in 2010, Columbia Pictures "The Social Network" based on the social networking phenomenon of Facebook became a global blockbuster notching up $220 million in revenues with a production budget of $40 million. Despite getting a full-length mainstream Hollywood movie on their brand (worth millions of dollars in marketing money), Facebook as a company didn't show a lot of love to the makers of the movie. When "The Social Network" was released, Facebook executives were adamant that the movie's account of Facebook's formation was greatly fictionalized. Mark Zuckerberg declined to speak to Aaron Sorkin when he was writing the screenplay, and the production wasn't filmed on location at Facebook's campus.
This beckons the question, "If Hollywood made a movie on Google, how would they react?". The answer is that they embraced the opportunity not only allowing the film-makers to shoot the movie at their Mountain View campus but also providing it their marketing muscle with a highly elusive and priceless homepage placement.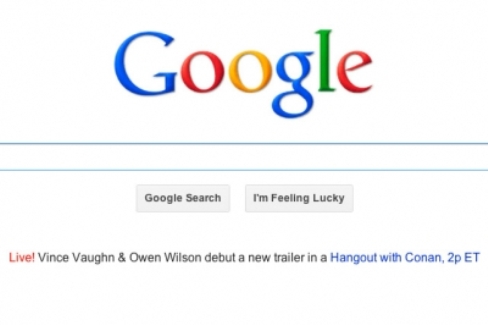 Slated for a June 7 release, "The Internship," stars Vince Vaughn and Owen Wilson and depicts workplace culture at Google, where the film is set (although the lion's share of the filming was done at Georgia Tech). The two lead actors known for their pairing in the 2005 film "Wedding Crashers" play the role of salesmen whose careers have been torpedoed by the digital world. The two then set off to Silicon Valley to prove that they are still relevant by landing internships at Google. The first trailer for this movie on Google was released last week and appeared to be average in comic factor but high on geek factor.
Unlike "The Social Network," "The Internship" is a comedy and stars a duo with proven box-office power. (co-written by Mr. Vaughn. himself). While Google has no financial stake in the film it is bound to help them in various ways. Google is no longer the coolest place to work at with good talent leaving the company for smaller startups. A movie on Google will help to change that image and make the company more attractive for young people. It may also soften the internet giant's corporate image at a time when news headlines often cite regulatory scrutiny over Google's privacy policies and allegedly anti-competitive behavior.
All in all, it seems like a must watch for all geeks and Internet enthusiasts as well as folks who loved the pair of Owen Wilson and Vince Vaughn in the "Wedding Crashers".