Globally Renowned Artists A.R. Rahman and Shekhar Kapur Launch Qyuki – A Pinterest Competitor With A Difference
In mid-2005, RSS co-creator and Yelp co-founder David Galbraith invented a concept called Visual Bookmarking. He created a site called Wists based on that concept and by 2006 it had begun to gain traction with women who were into crafts. However, in a time when Facebook was still limited to Ivy League universities and Twitter had just been launched, Wists fell by the wayside as it didn't take off beyond its community of early adopters.
Five years later in March 2010, Ben Silbermann launched Pinterest in closed beta and nine months later it had about 10,000 users. Amazingly, these 10,000 users belonged to the same community that the early adopters of Wists came from, Etsy users, crafts people and, above all, women. An year later, by January 2012 comScore reported that Pinterest had 11.7 million users, making it the fastest site in history to break through the 10 million unique visitor mark. The rest as they say is history as later in 2012 the web was abundant with primers on Pinterest and it become uncool to not be on the social network. Today, a newbie looking at Wists would think of it as a Pinterest competitor however the truth is that Pinterest is an evolution of Wists.
As we progress towards the middle of the second decade of the 21st century, the web continues to evolve and the tremendous success of Pinterest has spawned many a Pinterest competitor. While sites like Fancy and Wookmark have chosen to create Pinterest replicas, online retail giants such as eBay have updated their design to use the visual bookmarking technique signalling it as the next phase of the web and online commerce.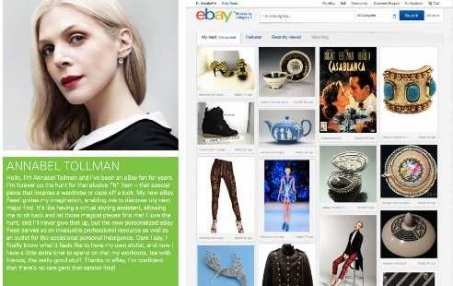 Less than a decade after mainstream social media came into existence, its penetration in the developed world is close to saturation. Developing markets particularly the BRIC nations however are still growing in terms of basic internet penetration and the next billion online users are certain to come from these regions. Its fascinating to see that of the BRIC nations, China and Russia largely use their own regional networks while India and Brazil have embraced the global phenomenon of Facebook, Twitter and LinkedIn. Attempts by local entrepreneurs in India to conquer the social media space have largely resulted in failure. Indian networks like iBibo, Fropper and Bigadda did gain some traction with the urban Indian youth while Facebook and Twitter were in their nascent stage, however now they no longer position themselves as social networking sites and have branched out into related verticals.
Armed with a desire to change this phenomenon comes the team of Qyuki Digital Media Pvt. Ltd. Built by harnessing the power of technology and social media, Qyuki is the next generation social media destination born out of the creative minds of two Indians who have achieved greatness by winning respect and admiration of their talent on a global scale. Shekhar Kapur (BAFTA® winner, critically acclaimed film director and producer) and A.R. Rahman (Academy Award® winning composer, singer, songwriter & record producer) are the founders of this new platform which aims to discover the vast untapped talent of India and the Indian diaspora; mentor and transform them into brands of the future.
At first sight Qyuki appears to be a Pinterest competitor, however its seems to have differentiated itself from Silbermann's creation in a number of ways. For one it seems to be targeted at "creators" pitching itself as a hub that unleashes the power of creative collaboration. Its appears to be following a tiered strategy of generating user-generated content (by consumers and amateurs), curated content (by masters and experts) and premium content. Its premium content strategy is an interesting one as the platform has acclaimed creative minds such as Imtiaz Ali (director of Rockstar), Ranjit Barot, Chetan Bhagat and Suresh Natrajan as the experts charged with creating monetizable content (in addition to the Rahman and Kapur). Indeed, this strategy is clearly visible on the Qyuki Page highlighting Shekhar Kapur's animated series Warlord which is sponsored by Alienware.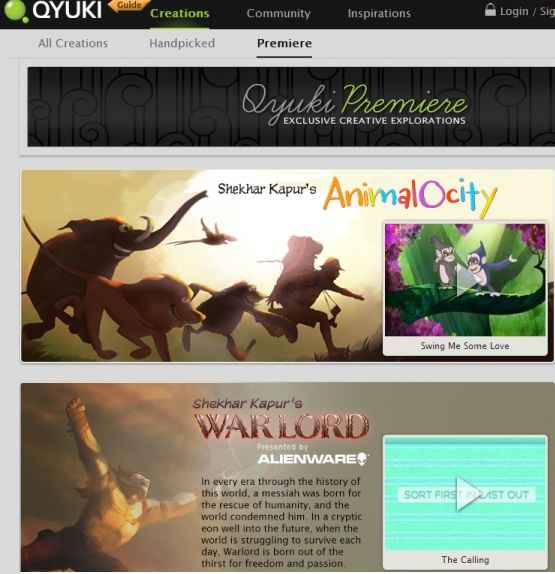 If Qyuki succeeds in its aim of discovering world-class creative talent in India through collaboration, celebration and expert mentor-ship it would surely be seen as a Pinterest inspired social network with a purpose. In doing so, it would also generate incremental revenue streams for itself as talented community members would work themselves up to the level of experts thereby gathering eye-balls of more people and advertisers. As co-founder A.R. Rahman puts it
Qyuki will help you creatively explore yourself, open the window for creativity that exists in all corners of India and is a first step to trigger the imagination of Indian minds. Qyuki would be active and focused in driving creative expression of all art forms. The platform will emerge as a strong medium that will enable Indian youth to follow their creative instinct. Melange, premiered at Qyuki, is content created by young musicians at K M Music Conservatory which showcases the potential of creativity in India.
With Cisco as their technology partner and early investor, Qyuki seems to be the first real attempt at creating a state of the art social platform born out of India. It almost seems to be an community powered online version of Indian Idol capable of generating not one but many Idols over a period of time. Qyuki's key test now lies in attracting a sizable user-base and generating healthy revenue. Doing so would set it up for success and its model may well be imitated in other parts of the world. Perhaps, it may also attract the attention of Pinterest who are certainly be thinking about exploring other global markets as they attempt to move towards competing with their IPO counterparts.