In 2005 Chad Hurley, Jawed Karim and Steve Chen founded YouTube above a Japanese restaurant in San Mateo, California. The domain "Youtube.com" was booked on February 14, 2005 and by the summer of 2006 YouTube was almost at the same place where Pinterest is today. What began as a Sequoia Capital funded start-up later got acquired by Google in 2006 eventually making its way to being acknowledged as Time Magazine's Person of the Year in 2006. As compared to today those seem to be humble beginnings for the video sharing platform which is now capable of creating mega-stars through its superpower better known as viral video buzz.
Even though it is now more than six years old, the site which launched with a video titled "Me At the Zoo" (uploaded by YouTube co-founder Jawad Karim on April 23, 2005) has experienced more than 100% growth year on year with numbers going down only slightly in 2012. More important than the numbers is the effect that it has had on human society as a whole. YouTube almost single-handed created mega superstars like Justin Bieber, Jenna Marbles and Natalie Di Luccio through its ability to generate viral video buzz that spreads like wildfire (thanks to the simultaneous explosion of social media during its period of growth). YouTube was the de-facto online video destination ever since most of us have known about online video but even then 2012 was an extraordinary year for the site.
An interesting prediction made by DelhiPlanet early this year stated that 2012 would be hailed as the year when viral videos would go mainstream. The signs that this would happen were present from the very beginning when more than a 1000 videos crossed the one million views mark by February 2012. What happened thereafter not only made the prophecy true but blew away our expectations in a manner than no one could have imagined. In particular there were four videos made by non-mainstream professional artists that took the world by storm converting the creators to superstars over a very short period of time thanks to the magic of viral video buzz. Lets take a look at these four videos, all of which belonged to the category of music and the elements that made them so successful.
Stuff We Love To Hate
In March 2011, for the first time in its history, a music video on YouTube starring a precocious 13 year old teenager started creating immense viral video buzz for being among the most hated videos ever. Rebecca Black's Friday brought light to the fact that in a social media world its not just the really good stuff that can do well; the opposite is also equally likely to succeed. The attention garnered by what is now known as "Black Friday" also pointed out to a scary fact that we might be approaching an age of mediocrity. An age, where individuals working hard to perfect their skill would get over-looked by those who have more benefits and less talent, a notion summed up well by the quote below (Source: Ology)
While hard working bands and singers will continue to sleep on pool tables and barely scrape by, living gig to gig, boys and girls too young to comprehend what's being done to them will be thrust in the spotlight. "Friday" isn't the worst song ever, it's a lesson in capitalist economics: the people on top will always find a way to simply pay for what the rest of us have to earn with old fashioned things like hard work and talent
In late 2012, another video titled 'Thanksgiving' from the same production house as 'Friday' began to create a similar kind of viral video buzz as its predecessor. Thankfully this one sung by another teenager named Nicole Westbrook was much worse than the song it tried to imitate. It is thus highly unlikely to replicate the wide scale unpopularity of Friday which is one thing we would like to be thankful for.
Stuff that Transcends across cultures, geographies and inspires creative imitation
The summer of 2012 gave birth to two music videos which put together have now crossed 1 billion video views and are testament to the fact that we are truly living in a small, highly globalized world. Carly Rae Jepsen's Call Me Maybe and Psy's Gangnam Style will perhaps be transformed into case studies that will be discussed in Harvard Business school as examples on how to create viral video buzz.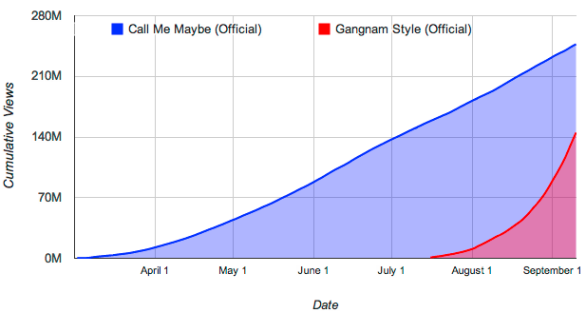 recipe for success that is bound to be used by social media marketers going forward. Among the common traits that they shared was the ability to resonate with a global audience, inspire unlimited imitation in various creative forms across the world and catch the attention of extremely popular influencers.
Help, I'm in a gangnam style k hole:bit.ly/PVPJ4p

— Katy Perry (@katyperry) August 21, 2012
For instance Katy Perry played a huge part in drawing attention to both G-Style and Call Me Maybe which sparked off the viral video buzz as it gradually spread after a few weeks post her endorsement. Social Media played a big role in the success of both the videos but in different ways. For 'Call Me Maybe', the critical piece was YouTube. After Justin Bieber and friends posted a video of themselves lip-syncing to it in February, hundreds of fan tributes followed. Alongside Ms. Jepsen's own video, versions by Katy Perry, the Cookie Monster ("Share It Maybe") and the United States Olympic swim team turned it into a yearlong audiovisual meme.
Psy's success on the other hand was largely due to multiple endorsements on Twitter from the likes of T-Pain, Katy Perry, Nelly Furtado and Britney Spears. Gangnam style's success however is truly mind-boggling as the video was in a foreign language that not many people understood and even then it ruled the music charts in almost all countries of the world (currently on the verge of hitting 1 billion views on YouTube by itself)
Stuff that is too good to go unnoticed
Finally, when it comes to certain things like music there are records whose success is temporal and then there are those which are eternal. The one's that fall in the category of the latter require no tricks, funky dance moves or tantalizing skin show to do well, they just follow the basics and appeal to those who understand music. Gotye's Somebody that I Used to Know falls in this category. It thankfully also proves that YouTube is not only about creating viral video buzz for "average" or "mediocre" stuff but also about discovering soul stirring, subliminal and meaningful music.
Unlike Justin Bieber, Ms Jepsen or any other YouTube celebrities, Gotye actually boasts of some spectacular music credentials and his success comes after many years of hard-work. "Somebody", became a viral hit only after it had already played on several radio stations and its remixes made by rockstar DJs like Tiesto did immensely well.
What part of YouTube do you like the most? Would you prefer to see more music like "Gangnam Style" create more viral video buzz then "Somebody"? Share your thoughts by leaving a comment.