Maybelline Baby Lips – Your Chance To Discover Hollywood Style Lip Beauty And Stay Healthy This Winter
Unless you reside in those glorious sun-bathed, tropical destinations present in the southern hemisphere of planet earth, it is likely that you have started preparing for the onset of winter. Like every other season, winter too brings along with it its own set of pleasures as well as problems. One of the key issues that almost all of us including our favorite celebrities face is that of dry lips (licking them wet can only damage them more)
Eyes are the most beautiful and lips are the most attractive parts of the face. They are also the most sensitive demanding maximum care. Our lips are almost always exposed and prone to dehydration, particularly during the cold, windy winter months. The skin on the lips is also unlike skin anywhere else on the body: It's thinner, allowing the blood vessels to be visible and has no oil glands (oil acts as a barrier for skin, helping to protect it from the elements). Hollywood divas who are gorgeous with striking facial beauty take great pains to maintain themselves that way by eating healthy and drinking a lot of fluids. Additionally, they also use the right cosmetic products which help them achieve the radiant glow that captures our attention whenever we look at them on or off-screen. While some of these products require deep pockets others like Maybelline Baby Lips are extremely affordable and used by celebs and common folk alike.
Maybelline, the American makeup brand sold worldwide and owned by L'Oréal is well known for its advertising slogan "Maybe she's born with it. Maybe it's Maybelline". The company was created by New York chemist T.L. Williams in 1915 who in his early 30's noticed his younger sister applying a mixture of Vaseline and coal dust to her eyelashes to give them a darker, fuller look. That observation gave rise to his first product called Lash-Brow-Ine, which despite being a local hit didn't do too well due its awkward name. The brand Maybelline was then coined by mashing together Williams sister's first name, Maybel with Vaseline.
Maybelline as a female-focused cosmetic brand has always been closely associated with a host of stunning Hollywood models. Some of its previous brand ambassadors included the likes of Adriana Lima, Miranda Kerr, Kristin Davis and Diana Penty as well for India. The current faces of Maybelline include famous names such as Christy Turlington, Jessica White, Emily DiDonato and Lisalla Montenegro among a host of others.
When it comes to lip care, Maybelline and its suite of products are among the finest and safest in the industry. Just as winter arrives in most parts of the world the company has launched a new range of lip-care products titled "Maybelline Baby Lips". The lip balm which has achieved a cult following worldwide, is now also available in India retailing for less than 150 rupees per stick. Maybelline Baby Lips contains a perfectly balanced blend of superior ingredients such as aloe, honey, a high percentage of shea-butter along a combination of essential vitamins. This innovative lip balm requires only one application to give you instant moisture and protection for up to 8 hours. To give you a first hand glimpse of this product our team reviewed two variants of Maybelline Baby Lips – Anti-oxidant Berry and Berry Crush (shown below)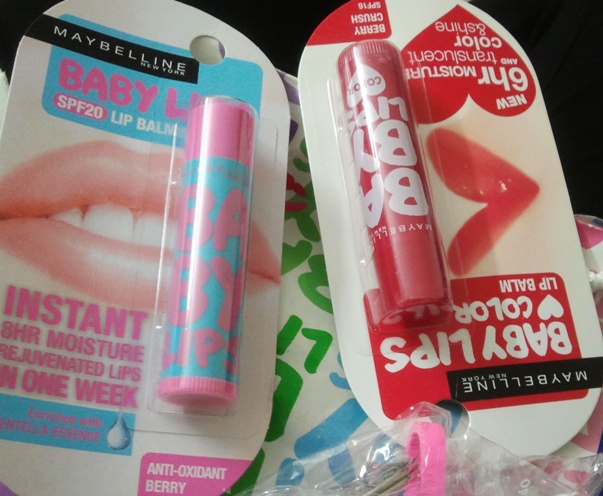 Maybelline Baby Lips Anti-oxidant Berry balm is a non-tinted lip balm that one can use at any time of the day or night after scrub-cleaning the lips. The texture is buttery and extremely smooth like all of its other variants and it does not leave an iota of whitish residue behind. The consistency is on the heavier side giving out a soothing sensation on application. It's the perfect balm to slather on your lips and it comes with SPF 20 to protect your lips from the harmful effects of the sun. It seems like the one stop shop solution for women with chapped lips healing cracked lips almost overnight.
The Berry Crush variant on the other hand comes with color and shine. Its very smooth to apply and glides like butter but with a non-waxy texture. It provides excellent moisture and gives a lovely tint to the lips while also healing chapped lips effectively. The balm has a mild fruity fragrance which lingers on for sometime when applied. Overall it hydrates the skin really well and stays for about 4 hours if untouched although it claims 6 hours on the pack.
Both the lip balms are extremely affordable and handy. Ideally they can be worn underneath lipsticks or if wanting a nude day- look to work. Overall, Maybelline Baby Lips is an essential product to have in your makeup kit this winter and if used right it could also win you some great compliments from both the sexes.