Sunny Leone in Jism 2 – From Canadian Punjabi To Adult Entertainment Star To Bollywood Diva
Prior to her appearance as a contestant in season 5 of the Indian version of the Big Brother, better known as Big Boss, not many people in India knew about Sunny Leone. In fact, even if you did you wouldn't acknowledge it in a public forum. Post her appearance on the show however, Sunny became a household name in India captivating everyone with her gorgeous face, innocent looks and broken Hindi. She also picked up her Bollywood debut film while on the show in a meeting with Mahesh Bhatt whose was producing Jism 2 and looking out for a fresh face to cast in a lead role.
The fact that Sunny Leone would eventually make it to Bollywood became almost apparent a few days after she came on the show amidst a huge media buzz. Her natural good looks, athletic body with surgically enhanced assets caused her to be compared to other Bollywood actresses not born in India, particularly Katrina Kaif. Sunny Leone in Jism 2 which is only a month away from its commercial release marks the debut of this Canadian Punjabi turned American Porn Star. Whether the movie is a success or not, Sunny will certainly capture a lot of attention and eye-balls post its release.
Her journey from a young girl born into a Punjabi family in Canada to Sunny Leone in Jism 2 is quite an interesting one. Born as Karenjit Kaur Vohra in Sarnia, Ontario to Sikh Punjabi parents, her father was born in Tibet and raised in Delhi, while her mother (who died in 2008) was from Himachal Pradesh. Although the family was Sikh, her parents enrolled her in Catholic school. She grew up largely on western values having her first kiss at age 11, losing her virginity at age 16 and discovering bisexuality at age 18. When she was 13, her family moved to the USA where Sunny graduated from high school in 1999 and enrolled in college.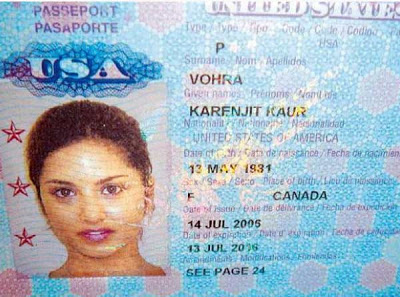 The transformation from Karenjit to Sunny Leone happened in 2001 when she was studying to be a pediatric nurse in Orange County. Around that time, Sunny was introduced to Jay Allen, a photographer at Penthouse Magazine from whereon started her Adult Entertainment career. Sunny managed to be quite successful as an adult film star choosing her films wisely and striking a number of business partnerships to exploit her brand and sex appeal. Leone was a contestant in the second season of the Fox reality show My Bare Lady 2: Open For Business. On that show a group of adult actresses were given classes and training on how to pitch investment ideas and competed for success in the business world. In an industry which can completely mess up with the minds of its members setting themselves up for extremely difficult times later in life, Sunny seems to be using her ethnic roots to her advantage.
The life of a "Porn Star" may seem on the surface to include drama, intrigue and in the end bring with it tons of hardcore sex. However, on the inside it is extremely different and brings with it a huge baggage, when its finally time to say goodbye to the industry. Many members of the porn industry in Hollywood are not mentally sound, while others deal with substance abuse problems. Being an adult film star puts tremendous stress on their personal relationships, particularly their love lives and family ties. A recent documentary titled "After Porn Ends" explores this issue by showcasing the lives of 12 American porn stars. It focuses on the lives of the actors after they leave the industry and transition to life after porn.
As showcased in the documentary, a career in porn is often nothing but a "brief shining moment" of money, sex and fame. Dealing with life after that "brief moment" is over is what can be a challenge. Sunny Leone in Jism 2 thus represents an opportunity for the porn star to transition into something more respectable and profitable. It sets her up to deal with "life after porn" in a manner that even leading porn stars in the USA can only dream about.
Sunny Leone in Jism 2 is set for release on August 2. Unlike most of her other movies this one can actually be watched in a theater with friends above the age of 18. We just hope that the film actually has a good script associated with it and isn't just a show of flesh. What do you think about Mrs. Leone's Bollywood debut? Do you think that she's here for the long haul? Share your thoughts by leaving a comment.