Aishwarya Rai Fat – Are We Being Too Critical Of The Former Miss World?
It was in 1994 that a 21 year old professional model from Mumbai captivated the attention of millions of people in India and later the whole world. In what proved to be a magical year for Indian beauty, two winners of the Miss India beauty contest went on to win their respective global titles. Sushmita Sen as Miss Universe and Aishwarya Rai as Miss World in 1994 started the resurgence of Miss India contestants winning global beauty pageants.
For almost a decade and a half after she won the Miss World title, Aishwarya Rai was still rated as one of the most beautiful women in the world. In 2007, the 33 year old got married into the Bachchan family thereby sealing her position as a name to be reckoned with forever. She continued to appear in movies and TV advertisements for a few years after she got married and even became a regular attendee at the Cannes film festival. Her Aphrodite like appearance and past credentials as a former Miss World even made her appear in commercials alongside Hollywood biggies such as Kate Winslet; and then in 2011 she got pregnant. In November that year amidst tremendous media scrutiny Aishwarya gave birth to her first child; a girl they named Aaradhya (its meaning translates to "someone worth worshiping"). Post child-birth everyone expected Mrs. Bachchan to go back to her svelte and lean body-form. No one could have even imagined Aishwarya Rai fat.
Seven months post the birth of her daughter the 38 year old stunner is barely even recognizable with recent pictures showing her with a double chin and excessive weight. Fashion and style gurus have criticized the 38-year-old actress and former Miss World for not snapping back to her pre-baby body. Aishwarya Rai fat is opening up a dialogue about the unhealthy standards imposed on women in the limelight.
As a former beauty queen, successful Bollywood actress and part of the most respected family of entertainment in India there is tremendous amount of pressure on Aishwarya to look lean and stunning. People are quick to cite examples of Hollywood moms like Victoria Beckham, Angelina Jolie and Katie Cruise who look much fitter than before even after child-birth. Entertainment columnist Shobhaa De, though, says that the inevitable comparisons to the post-baby bodies of Victoria and Angelina are unfair, noting, that Indians are built differently from their western counterparts.
Our body frames are different – we have wider hips and curves – so this whole business of looking desperately skinny two weeks after giving birth is a western import.
Even in Hollywood there are cases of celebrity moms putting on oodles of weight post-pregnancy. New moms are feeling greater pressure than ever before to lose their baby weight — and quickly. It seems that as soon as a starlet gives birth, tabloids and even legitimate publications are on round-the-clock weight-loss watch, and the public invariably eats it up. Jessica Simpson's expanding belly became the butt of jokes well before she gave birth – and the criticism has not subsided since she welcomed baby Maxwell into the world May 1, 2012.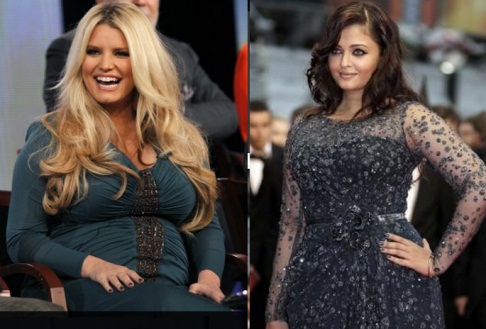 Back in Bollywood however the "Aishwarya Rai Fat" debate seems to be raging on with new conversations on the matter bombarding the internet everyday. Irked by the persistent chatter over her wife's weight gain, Abhishek Bachchan who is other known for his placid demeanor, termed the unwarranted criticism directed at Ash as "extremely insensitive".
Yes, she's a public figure, but people forget she's also a woman and now a mother, and there's a line that's not to be crossed. I don't talk that way about any woman ever and it's obviously not graceful for anyone to talk about her like that either," a protective Abhishek said in an interview recently.
Its is a well accepted fact that their is a "price to fame" and being a global celebrity does come with its fair share of pressure. Aishwarya can surely be given more time to get back to her best looking form. If she doesn't get back to shape over a longer term however, it would set a bad example for the millions of mothers who adore her and look up to her for inspiration.
What are your thoughts on the Aishwarya Rai fat debate and postpartum weight gain for celebrity mothers? Share your thoughts be leaving a comment.