Enjoy The History And Aroma Of India's Best Culinary Export – Chicken Tikka Masala
The number one dish that comes to people's minds when they think of Indian food is Chicken Tikka Masala. It's on the menu of every Indian restaurant especially outside of India even though its not technically Indian. In fact, chicken tikka masala actually enjoys the status of being the United Kingdom's national dish. The most popular story about where the chicken tikka masala comes from takes us back to the 1960's to an Indian restaurant in the UK.
Once a British diner at an Indian restaurant orders the chicken tikka but finds it too dry for his taste, and sends it back to the kitchen. The puzzled chef thinks on his feet, and cooks up a quick gravy with tomato sauce, yogurt and some spices. The diner loves his chicken tikka with gravy and thus chicken tikka masala is born. There is however an alternate story that suggests that chicken tikka masala was first made in India. Colleen Taylor Sen mentions in her book Curry, A Global History that Kundan Lal Gujral, the owner of the Moti Mahal chain of restaurants, invented butter chicken as a way of using up leftover tandoori chicken. Butter chicken which is essentially roasted tandoori chicken in rich tomato, butter and cream sauce is said to be a precursor to chicken tikka masala.
Irrespective of what its true origins of are, the fact is that there is nothing more delectable than a rightly spiced chicken tikka masala served with hot paranthas or rice. If the dish can be made at home using the right oils and spices it can actually be quite healthy and tasty. Here's how you can make this sumptuous dish:
Ingredients
4 tablespoons plain yogurt
2 cloves garlic, minced
1 inch piece fresh ginger, peeled and minced
1 teaspoon cumin, ground
1 teaspoon coriander, ground
1/2 teaspoon cayenne
1/2 teaspoon clove, ground
1/2 teaspoon salt
1.5 lb chicken breast cut into 2-3 inch pieces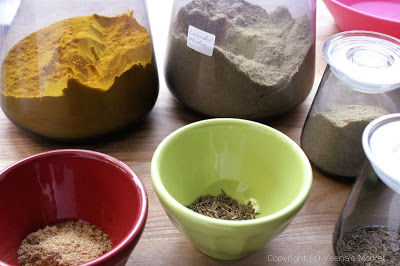 Mix the marinade ingredients together except for the chicken. Taste the marinade and add more salt or cayenne powder if desired. Keep in mind that the 'masala' gravy will tone down the flavor a bit. To make sure that the chicken is extremely tender marinate it for a few hours.
You have a couple of options on how to cook the tikka. You could skewer the chicken pieces and grill them (so the small pieces don't fall through) or you can broil them on medium for 3-4 minutes on each side or till it is just cooked. If it is still a little pink on the inside, that's fine. The chicken will simmer in the curry for a few minutes. If you prepare the chicken tikka ahead of time, remember to not overcook and cover it tightly before refrigerating. This will ensure tender rather than chewy pieces of chicken in the masala.
Masala Ingredients
1 yellow onion
3 ripe tomatoes
2 jalapenos sliced lengthwise (remove seeds to reduce heat or don't use chilis)
2 tablespoons vegetable oil
1 teaspoon cumin seeds
2 bay leaves
1 teaspoon coriander powder
1/2 teaspoon turmeric
1 teaspoon garam masala
1/2 teaspoon salt or to taste
1/2 cup of yogurt or 1/4 cup cream
Very finely dice half the onion for about 1/2 a cup and medium dice the other. Blend 2 tomatoes into juice, and medium dice the other one. Heat the oil in a saucepan or wok over medium high heat for roughly 3 minutes or till a cumin seed thrown in lightly sizzles. Add the cumin and bay leaves and allow to sizzle for 10 seconds. Stir fry the onion and chilies till onion is golden brown.
Reduce heat to medium and add the remaining spices. Give it a quick stir before adding the tomato juice. Once it gets to a boil, add the medium diced onion and tomato. Cook down the sauce till it becomes thick and there is a thin film of oil on top. Add salt to taste before adding the chicken tikka. Taste and decide if you want to add yogurt. If the sauce is too spicy for you, adding yogurt will help. Simmer on low heat for a few minutes. Garnish with cilantro and serve with chapatis, naan or rice.
Chicken Tikka Masala is such a popular dish in the United Kingdom that they even made a movie around it with the same name, so now you can not only eat the dish but also watch and hear it.
Note: This feature is courtesy of VeenasMarket, a one of its kind food site dedicated to Indian Cooking. Its founder Veena Prasad is originally from Bangalore and currently based in Seattle, USA from where she adds spice and joy to the people around her with her cooking. Checkout her blog for many more delicious recipes.