Survivor India, MasterChef, Bigg Boss – Has Reality Television Arrived in India?
In the future everyone will be world famous for 15 minutes – Andy Warhol
Its amazing how sometimes simple statements made by visionaries, intellectuals and the great people of our time go on to have profound influences many years into the future, almost shaping the very essence of our society. Andy Warhol's famous comment which is a paraphrase of a line in his catalog for an exhibit at the Moderna Museet, in Stockholm in 1968 is one such example. Today's era of reality television, viral videos and twitter trends is strongly indicative of this fact.
Reality Television and over the past few years viral videos are emerging as extremely potent platforms capable of giving more than 15 minutes of fame to individuals and offering them brilliant launchpads to showcase their talent. The one's who are able to make their mark in the long run are those who possess a fine balance of talent, humility and intellect. This phenomenon is not limited only to the west but is increasingly becoming more and more visible in the east as well, although with variations.
In India for instance reality television has hit the market big time with localized versions of internationally successful TV series such as Survivor, Masterchef, Big Brother, Fear Factor, The Bachelor/Bachelorette, Beauty and the Geek and many more. Analysts say the new shows are an outgrowth of India's competitive television market. New Indian channels such as Colors, FoodFood as well existing giants such as Star TV backed by the experience and money muscle of international entertainment companies' are increasingly introducing power-packed reality shows featuring local and international celebrities.
Star Plus which recently wrapped up the second season of Masterchef India didn't wait long to introduce its next reality show in Survivor India. Colors TV which is backed by Viacom, too followed a similar strategy and is all set to introduce the country's first ever reality boxing TV show upon conclusion of the much followed Bigg Boss Season 5 (the Indian version of Big Brother).
Before reality television mainstream Bollywood celebrities kept themselves miles away from the TV but ever since Amitabh Bachchan hosted the first season of India's version of Who Wants To Be Millionaire, that disposition has been broken. Indian reality television now has a heavy dose of Bollywood with only a few shows like Masterchef (it too was heavily influenced by Bollywood in the first season) standing out. 2012 is expected to be bigger and better in this sense, so lets have a look at what's in store this year
Ring Ka King
Backed by TNA Wrestling (the second biggest entertainment wrestling federation after WWE) and reality television pioneer Endemol, Ring Ka King appears to be India's version of Entertainment Wrestling and will be anchored by none other than cricketer Harbhajan Singh, who's cricketing career seems to be on the downturn.
The show which has a number of International Wrestlers is being heavily promoted by Colors and will most likely appeal to the young male youth of India in the age group of 12-25. It may also result in Bhajji getting an alternate career as he does appear to be comfortable in his role as anchor in the current promos of the show.
Swayamvar Season 4 – Veena Ka Vivaah
Imagine a Pakistani model who's found love, wealth, adoration and a career in India being woe'ed by Indian men in a setup similar to internationally acclaimed show the Bachelorette. That's Swayamvar Season 4 for you. Veena Mailk who was part of Bigg Boss in 2010, comes back to your TV screens in 2012 this time looking for a soul mate.
If there was any concern that she would not find enough candidates for herself as a Pakistani, then those were all dispelled after she appeared in a stunning and highly controversial nude cover shoot for FHM with the word "ISI" tattooed on her shoulder.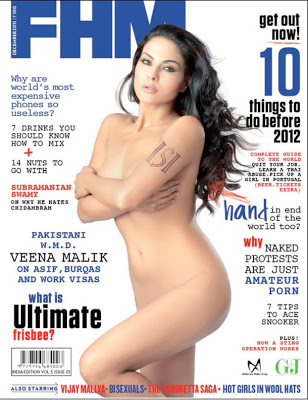 Getting married on Reality TV has never really worked out for the couples on most occasions. But hey, no one minds as both the bride and groom get enough attention and make enough money in the process, and that's what really matters for them.
Aamir Khan's Reality TV Show
Apart from the run of the mill, negative and meaningless "saas-bahu" soaps that dominate most of Indian television, no other content that is original and authentic has stood out on Indian TV. As shown above, most of the reality TV concepts that have worked have all been borrowed from International markets. However that may soon change this year, when one of Bollywood's most admired, intellectual and mature personalities finally makes his small-screen debut.
Aamir Khan, who's not been in action for more than three years will be hosting an original and meaningful reality show aimed at creating change in the country. Not much detail regarding the show has been provided yet, but it seems that the show will strive to create social impact by showcasing real stories featuring real people from around India.
As the reality television scene starts to boom in India we surely hope there is some meaningful content as well. Perhaps the channels should think about introducing international formats such as Undercover Boss, the Biggest Loser and the Apprentice in the country.