Hrithik, Salman, Aamir – Bollywood Blockbusters To Watch Out for in Early 2012
With a little more than a week to go before the third leap year of this century arrives, one can't help but get curious about what Bollywood will have in store for us in the new year. 2011 was an average year for Bollywood where no one movie was actually able to stand out and showcase itself as a deserving blockbuster similar to Dabangg in 2010 or 3 Idiots in 2009. The top grossing movies for 2011 were Bodyguard, Ra One and Zindagi Na Milegi Dobara none of which were as meaningful, impactful or highly entertaining as some of the top grossing films from previous years.
Infact the most entertaining movie of the year which was an absolutely riveting watch and introduced a new genre in Bollywood was Delhi Belly. 2011 was a tough year globally and everyone hopes that 2012 will be much better, Bollywood too seems to have the same thought as it has lined up an appealing fare for the first half of next year.
Agneepath – January 26, 2012
Not even in his wildest dreams would Hrithik Roshan have imagined playing the role of Vijay Dinanath Chauhan in a remake of the cult classic Agneepath. Based on the title of a poem written by Harivansh Rai Bachchan, originally produced by the late Yash Johar and released in 1990 with Amitabh Bachchan in the lead role, the film didn't do well at the box office but went on to become a cult classic and TV hit.
Now, Karan Johar who's family owns all the rights to the film's name has created a modern day version of the film with Hrithik Roshan in the lead and Sanjay Dutt in his most villainous role ever. The trailers are looking fantastic and Katrina Kaif has once again managed to create waves with her item number titled 'Chikni Chameli'. Karan Johar has been making the same kind of run of the mill stuff for the past many years working only with Shahrukh Khan and some of his other favorite actors in this industry, so Agneepath comes as a refreshing change and is something to look forward to watching.
Talaash – June 1, 2012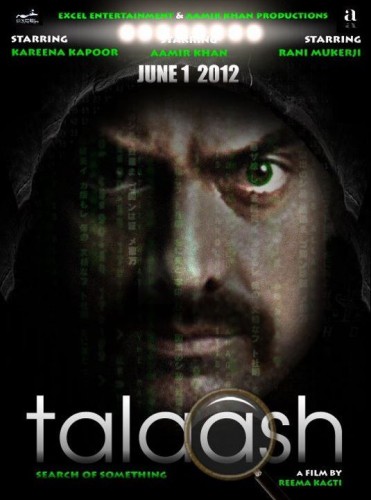 Its been almost two years since we last saw him in 3 Idiots, a movie which was immensely successful and entertaining and his fans are literally starved to see him again on the big screen in a proper role. Come June 1, 2012 Aamir Khan will be back with his only movie for next year and yes, this time he's playing a cop again.
The movie titled 'Talaash' is reported to be a thriller which once again pairs Aamir Khan with Kareena Kapoor. Produced by Aamir Khan's home production house and Farhan Akhtar's Excel Entertainment (which has also produced Don 2), the movie's first trailer was due to be shown during the screening of Don 2 but was pulled out at the last minute. By the time it hits the screen next year it would have been 30 months since his last release and expectations from the film will be sky high given Aamir's penchant for only doing movies with powerful stories and scripts (a desirable trait absent in most of Bollywood).
For now we eagerly await the first look of the movie through its official trailer and we'll be the first one's to let you know about it. Stay tuned.
Ek Tha Tiger – August 2012
Originally scheduled to release on June 1, 2012 as well, Salman Khan's next flick co-starring his favorite muse Katrina Kaif was postponed to release on Eid in August 2012, after Aamir himself requested Salman and Aditya Chopra to do so. By the looks of the promos that have been released so far, 'Ek Tha Tiger' too seems to be an action flick and is the first movie that Salman Khan is doing under the Yashraj Films banner.
The film has been shot in various different locales such as Dublin, Turkey as well as Delhi and it is rumored that Salman's fee for the movie was a whopping 32 crores.
To have a Salman Khan and Aamir Khan movie release close to one another is surely a rare event and it will be interesting to see which of these movies fare better at the box office.