Physically more attractive parents are more likely to have daughters than physically less attractive parents
This is not a piece of philosophy or a hypothesis that we just came up with to justify why 70% of the cutest celebrity kids around the world both in Hollywood and Bollywood are girls. This in fact is a piece of proven research published in Psychology Today and an outcome of the generalized Trivers-Willard hypothesis (gTWH). It thus comes as no surprise that when we tried to shortlist the names for this feature they all turned out to be girls.
This highly counter-intuitive idea is actually the basis of a 250 page book by Satoshi Kanazawa titled "Why Beautiful People Have More Daughters?". Dr Kanazawa, of the London School of Economics, analysed data from a survey of 17,000 babies born in Britain in March 1958 and tracked them throughout their lives. When they reached 45, they were asked about the gender of any children they had. As it turned out the beautiful couples were more likely to have daughters. This phenomenon is clearly visible in the world of entertainment where very often good looking co-stars get married to each other in real life too and most of their first kids turn out to be girls.
Suri Cruise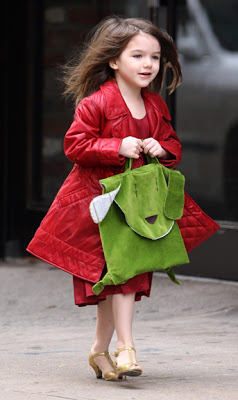 As the picture clearly shows, at little over five years of age Tom Cruise and Katie Holmes first child, Suri Cruise is already a fashionista specially when it comes to clothing for kids. She already has a blog titled "Suri Cruise Fashion" dedicated to her and is known to be very picky about she wears and carries in public.
A couple of months ago, she made the headlines for sporting a $1300 purse gifted to her by her mom. Even though kids can go through a lot of change right till the end of their teen years, it seems apparent that Suri will have the looks, the sophistication and the style to be one of the most photographed and followed celebrity kids of this decade. She won't be alone though, the next two contenders will surely giver her some stiff competition.
Shiloh Jolie Pitt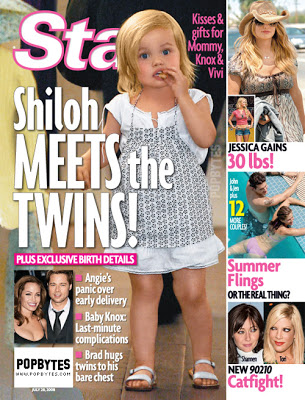 In the crazy world of entertainment, fame, glamour and moolah, celebrities often become irrational and indulgent when they become successful (as highlighted here), however some extremely mature and level headed personalities are able to understand the value of their fame and use it to make a positive change in society.
One such example is that of Angelina Jolie and Brad Pitt who are among the very few famous couples to have biological and real kids all living together in the same household.The Jolie-Pitt family today have six children of which three are biological and three are adopted from extremely poor and war-torn countries like Cambodia, Ethiopia and Vietnam. Of their biological kids Shiloh Jolie Pitt is the oldest at age five and one can but imagine the kind of genes she and her other two twin siblings must have, given that her parents are among the most good looking people in the world.
As she grows older her real features will start emerging and there is a high chance that she will be a stunner. In fact many artists have even started imagining what she will look like after 20 years.
Beti B
Finally, to conclusively prove Dr. Kanazawa's hypothesis and the fact that it not only applies to Hollywood but also other countries, Aishwarya Rai Bachchan's first kid also turned out to be a girl. While the above image is a fake (checkout the real image here), Amitabh Bachchan has indicated that she does have a lot of Aishwarya's features including her stunning blue eyes.
There is no doubt in anyone's mind, that Beti B (as she is temporarily called right now) will be one of the most photographed and followed celeb kids in India given her association with two generations and four actors who are extremely well regarded actors in Indian Cinema.
What do you have to say about the hypothesis discussed in this feature? Do you agree with it? Who do you think will be the best looking of the three? Share your thoughts by leaving a comment.