The past few months has seen a buzz of activity happen in India with a host of Hollywood celebs and music artists jet-setting their way to the land of Bollywood. India has a huge appetite for entertainment, something which is clearly visible in the godly treatment that the A-list Bollywood celebrities get in the country and the number of movies that come out of the Indian film industry (close to 1500 feature films annually).
Even though the economic divide in the country is huge, the appetite for entertainment is more or less the same across all income levels. The super rich are thus able to hob-nob and invite A-list Hollywood celebrities to the country for special occasions and events and don't shy away from spending millions in the process.The last quarter of 2011 has seen Paris Hilton, Lady Gaga, Metallica, Shakira and David Beckham visit India and December will see Pitbull, Jennifer Lopez and Tom Cruise arrive in the country as well.
Paris Hilton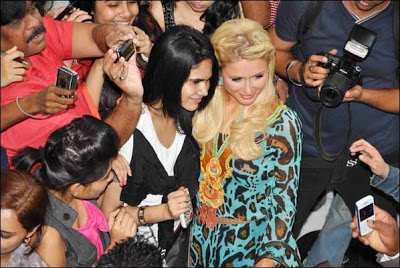 The Hotel Heiress, businesswoman, actress, singer and socialite (of which the former-most is what makes her famous) was in India in the last week of September to announce the launch of her brand of bags and accessories. She spent most of her time in Mumbai visiting various malls and launch events as well as partying with the who's who of Bollywood.
#India rocks! So thrilled to be here! #YES! – Sept 25

Having the best time in #India! – Sept 25

#India is beautiful, but some parts are very poverty stricken. Broke my heart to see babies sleeping on the streets 🙁 – Sept 26
Being quite a twitter buff she shared a lot of pictures and many details about her trip during her visit. In a manner typical to most ignorant personalities who think of India as the land of spirituality and poverty, she left on a somber note after seeing the plight of the slums in Dharavi. The fact that she left for Ibiza (the party capital of the world) to continue her extremely decadent lifestyle at the end of her tour obviously didn't add credibility to her emotional feelings about poverty in India.
Lady Gaga
The 25 year old International pop icon was invited (and paid) to come to the Indian capital to be a part of the after party celebrations for the Inaugural Indian F1 Grand Prix. Her performance which was seen only by a highly selected and privileged group of people (with ticket prices costing close to $900) comprised of some of her classic hits such as Bad Romance as well as new unreleased numbers like Marry the Night.
Screw Hollywood. It's all about Bollywood – Oct 31
The queen of Twitter with close to 16 million followers, later attended a private party at Arjun Rampal's club Lap in Delhi which was attended by the F1 drivers, grid girls, Bollywood celebs and business magnates of the country who were also present at the Grand Prix. In particular, Arjun Rampal and Shahrukh Khan were seen cozying up to the pop star.
Tom Cruise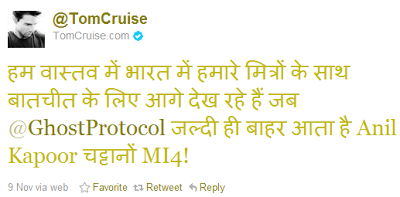 Tom Cruise upcoming blockbuster Mission Impossible 4 which also has a guest appearance by Anil Kapoor has big bets placed on India and thus he will be visiting the country in December as part of its promotion.
Tom Cruise and Anil Kapoor To Promote 'Mission: Impossible – Ghost Protocol' in Mumbai in December – Nov 18
Cruise and his team expect to use Anil Kapoor's reputation and connections in Bollywood to help the movie get a bumper opening in India. His visit is sure to get a lot of media attention and post his visit, MI-4 can certainly expect a strong opening week at the box office.
Finally, Rap Star Pitbull who is most well known for his chart busting collaborations with artists such as Marc Anthony, Enrique Iglesias and Jennifer Lopez will also be in India to perform in Delhi, Mumbai and Pune starting 2 December. His number "On The Floor" with JLo has been a huge hit catapulting itself to one of the most watched videos on Youtube with close to 430 million views.
So is this a bumper season for the Indian people or is the west running out of money and looking to the east to help their celebrities make a livelihood?