Remembering Steve Jobs – The Biggest Celebrity In The Media And Entertainment World
Celebrities are often not known for their skills at handling people well or being humble, and in today's world of digital media dominance these celebrities are often known to use technology to talk about themselves and their upcoming projects. It is thus rare to find a day where these rich, powerful and mainstream celebs join in the millions of common people around the world to pay tribute to one person who through his vision and leadership changed the lives of many of us, specially those in the media and entertainment industries.
Steve Jobs the iconic iCEO at Apple Inc lost his battle against pancreatic cancer aged 56 at the peak of his business career on October 5, 2011. His death has triggered a massive out-pour of grief and sadness as well a look back at his atypical and inspiring career. Common people and celebrities from all walks of life around the world have joined in to pay their respects to one of the all time great innovators, visionary thinkers and product marketers of all time.
Today, thanks to his midas touch and gifted abilities, common and famous people alike are able to enjoy deeply immersive multimedia experiences through the products he conceptualized. iPhones, iPads, iPods, Macbooks have not only enriched our lives personally but have also greatly improved a number of industries. Many celebrities are now using iPhones and other smart-phones to communicate and connect on Social media, all thanks to an app ecosystem that was started by Apple under Steve's leadership.
Post the news of his passing away, many well known icons from the world of technology and media have reacted with their thoughts reflecting on the brilliance of the iCEO.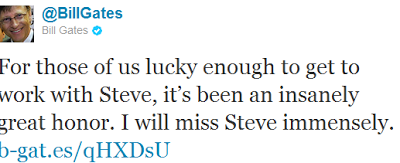 Indeed there are very few personalities specially in the Business World who've been cultural heroes, icons, heroic figures to ordinary people and celebrities for many decades together and Steve was certainly one of them. There isn't another individual that comes to mind whose arrival on stage would illicit a thunderous standing ovation, deep respect and heart warming feeling, making you feel special to be in their presence. Apart from his ability to seamless merge creativity and innovation, Steve Jobs was also an extraordinary story teller and presenter who could entertain you with business talk for incredibly long periods of time without the aid of any slide deck or aids.
Thank You Steve for inspiring us, greatly enriching our lives and providing our children with a future we couldn't have ever imagined.
We leave you with an entertaining visual featuring the great man himself and someone who played him on screen in a movie that is must watch for all technology enthusiasts.