As one the pioneers in showcasing celebrity ads from Hollywood and Bollywood (see here), its exciting to know that the gorgeous, talented and much loved Katrina Kaif who recently exhibited a superior performance alongside Imran Khan for the movie Mere Brother Ki Dulhan, will be seen again in a new TV Commercial for the British cosmetics brand Yardley.
As a native of London herself, there couldn't have been a better choice for Yardley to choose a brand ambassador to represent them in India. Yardley of London (as it is better known) is one of the oldest cosmetics brand in the world having a history of more than 240 years. In a new TV commercial scheduled to hit the airwaves shortly, Katrina will be shown using Yardley products in an interesting ad storyline that has been creating a lot of buzz. Infact lets play a game to see if you can correctly guess the plot of the commercial
Here's the frame as showcased on the My Yardley Facebook Page :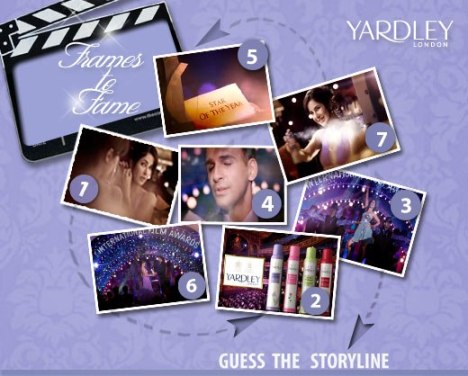 In order to help you out a little more checkout these two clues that will strengthen your chances of having a successful crack at this challenge.
Clue 1
Clue 2
Any ideas, as to what Katrina is up to in the commercial. If not, then we won't tease you anymore, have a look for yourself in this exclusive preview of the Yardley TVC.