Savor The Mouthwatering Flavor of Korean Kimchi Pancakes
If you were asked to think about a couple of food items that have similar basic ingredients but are savored and relished in different forms around the world across different cultures, it would surely make you think long and hard. If you are a foodie or a chef, this question might be easier but it is still a tough one. Two food items that come to mind are Yoghurt and Pancakes.
Milk is the basic ingredient of Yoghurt but it is consumed in different ways in different parts of the world. Raita and Srikhand (popular in India and Pakistan), Khyar w Laban (popular in Lebanon and Syria) and Rahmjogurt (popular in Germany) are some of the famous variations of yoghurt. In the same manner pancakes too are made in a number of regional varieties around the world with crepes, flapjacks, dosa and serabi being some of the most well known variations. Another name that can be added to that list is that of Korean kimchi pancakes also known as Kimchijeon in the local language.
So what does it take to make mouthwatering crispy kimchi pancakes, GlobalMasala in partnership with VeenasMarket presents an exclusive recipe.
Ingredients
Pancake
1 cup kimchi, cut into ½ inch pieces if possible
¼ yellow onion, finely diced
1 cup all purpose flour, 1/3 cup whole wheat flour
1 egg, 1/3 cup kimchi broth, 2/3 cup water
6-8 tablespoons vegetable oil, divided
Salt – 1/2 teaspoon or to taste
Garnish (optional)
Spring onion or chives, chopped
Dipping Sauce (optional)
¼ cup soy sauce
1/3 cup rice wine
1/3 cup cider vinegar or rice wine vinegar
¼ teaspoon Korean red pepper flakes
Recipe
In a large glass or plastic bowl mix together all ingredients except the oil. Make sure there are no clumps of flour left. Taste the mixture and add more salt if necessary. If you wish to make the pancakes crispier add ½ teaspoon baking soda and 1/3 cup of lentil flour to the batter as well and cool it.
Heat a nonstick skillet over medium heat and add 2 (add 3 to make it crispier) tablespoons oil. Wait till the oil is hot enough before proceeding. If you add the batter when the oil is not hot enough, the pancakes will come out soft. You can tell that the oil is hot enough if you put a drop of batter in the pan and it sizzles. Take a big ladleful of the batter, pour into the skillet and spread as thinly and evenly as possible.
Keep the heat at medium and let the pancake cook for a minute or two. Once the pancake has 'loosened', it will move around the skillet easily. At this point, flip the pancake. You can use a flat spatula if you don't dare throw the pancake up to flip it! Let the pancake cook for another 2 minutes on this side as well. You might need to cook both sides for another minute or so to make sure the pancake is fully cooked.
Make the remaining pancakes in the same way. If you save part of the batter in the fridge, use it within a day or two. You will need to add a ¼ cup of water or so to loosen up the batter again before using.
To make the dipping sauce, mix all the sauce ingredients together in a bowl.
Cut the pancake into smaller pieces if you like. Garnish with chopped spring onion or chives.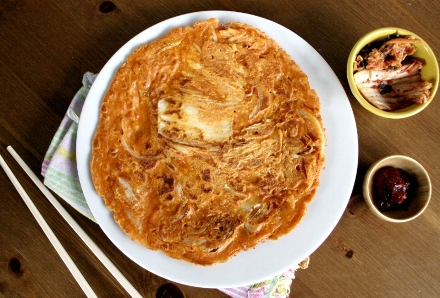 Do let us know if you happen to try this out, we would love to hear from you?
VeenasMarket is a one of its kind food site dedicated to Indian Cooking. Its founder Veena Prasad is originally from Bangalore and currently based in Seattle, USA from where she adds spice and joy to the people around her with her cooking. Checkout her blog for many more delicious recipes.