Couch Potatoes Rejoice – New Seasons of Big Bang Theory And The Rest Are Coming Soon
Sheldon, Raj, Penny, Howard, Barney, Jay, Claire, Gloria and the gang are coming back to your TV Screens. Come the third week of September, the next season of The Big Bang Theory, How I Met Your Mother and Modern Family will hit the airwaves in America bring back some joy into the lives of their fans and couch potatoes around the world.
Post F.R.I.E.N.D.S which ended in 2004, their hasn't really been a comedy which appealed to audiences around the world and its doubtful that there will ever be one as successful again. However, the past few years have seen new comedies based on concepts similar to Friends do well which explains why they are back with new seasons and continue to arouse the interest of viewers. Lets take a sneak peek at what's in store in the upcoming seasons of these hilarious shows.
Big Bang Theory Season 5
The classic comedy created by Chuck Lorre (of Two and Half Men fame) and Bill Prady showcasing the lives of four super geeky scientists and their attractive neighbor immediately struck a chord with audiences around the world given its theme, excellent performances and the fact that attracting physically attractive women is mostly just a dream for geeks. The presence of an Indian character in Rajesh Koothrappali and references to many Indian contexts also made it a hit with Indians based in America and elsewhere.
In Season 5, the show picks up from where it left off. Penny must confront the group on her one night stand with Raj, and Leonard tries to manage a long distance relationship with Raj's sister Priya. If rumors are to be believed then this season might actually see Raj get a girlfriend. Not with Penny but with one her friends who happens to be Deaf. Now that plus the marvelous performance of Sheldon should prove to be a treat.
Checkout a teaser from the new season below
How I Met Your Mother Season 7
Now here's a show that started out with a great concept, that of a father narrating to his children the story of "How he met their Mother". Post Season 5 the show has started to drag and is losing its appeal (in a manner similar to Smallville). The only reason it continues to get a decent viewership is because of the excellent performance of Neil Patrick Harris who plays the role of the womanizing bachelor and casanova Barney Stinson in the show. The sitcom has been renewed till Season 8 which will hopefully be the last season of the show.
Season 7 is rumored to be the one where Barney eventually gets married (most likely to Robin). The Season Premiere scheduled for September 19 titled "The Best Man" is all about who Barney is going to get married to and Ted's reminiscing about his best friend Punchy's wedding. In all likelihood the start of the season should be good fun to watch, checkout the teaser below.
Finally, if you are someone who prefers the tried and tested formula of watching family comedies then tune into Season 3 of Modern Family which premieres on September 21.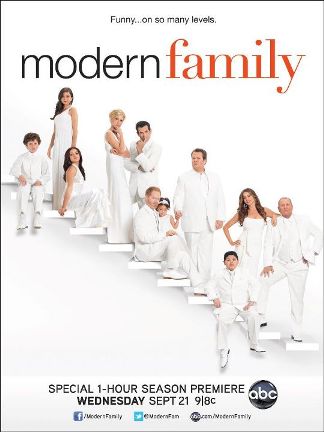 Which show among the three above is your favorite? Who are your favorite characters? Discuss now before the shows kick off.