Apple iPhone, RIM Blackberry, Windows Phone, Nokia and Google Android (supported by a host of electronic retail giants) are currently the most well known global brands competing in the highly competitive smartphone space. For most of us belonging to the middle class income streams, chances are that a purchase of any of these high end smart-phones will be the result of some analysis and research in terms of cost, features, intended use, benefits etc. But what about celebrities for whom money is never a constraint, which phones are the most popular amongst this group.
To find out, we devised a ingenious plan and took the aid of an invention that was almost designed for celebrities to use given that they love to talk about themselves. By looking into their tweets we were able to find out which phones they used as each phone requires a specific app that allows the user to use Twitter. Here's what we found:
Katy Perry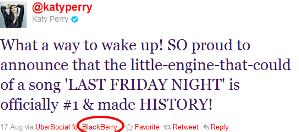 The 26 year old pop star who recently became only the second music artist (after Michael Jackson) to have five singles from the same album (Teenage Dream) top the Billboard charts in the US is a Blackberry user.
Lady Gaga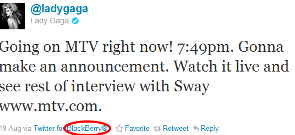 One of the most innovative, creative and ingenious pop stars of all time Lady Gaga is also a Blackberry user. That actually comes as a surprise as there's nothing artistic or beautiful about a Blackberry. Gaga is definitely someone who deserves to have her own custom handset and one can only imagine what its design would be like.
Arnold Schwarzenegger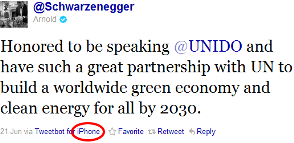 The former Terminator and Gubernator who actively used Twitter while serving as the Governor of California is an iPhone user. Surely he must be using the keyboard in landscape mode to type given that the iPhone's keyboard in portrait mode is tough to use even for people a third his size.
Kim Kardashian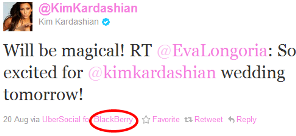 Its hard to understand what makes her so famous, but this reality television star, socialite and one of the earliest users of Twitter (who actually got paid to tweet early on) uses the Blackberry as her mobile device of choice.
Justin Bieber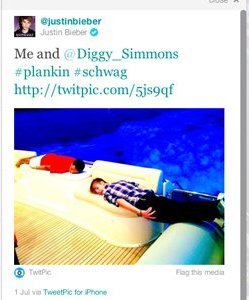 The super popular teen pop idol with more than 12 million followers on Twitter uses an iPhone. A large part of his success mostly with teenaged girls has been due to handsome boyish looks and girly voice. It will be interesting to see whether he will be around after another five years.
Charlie Sheen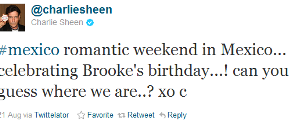 Possibly the only human being with "Tiger Blood", this former star of the popular sitcom Two and Half Men who become quite a sensation on Twitter a few months ago is an iPhone user. It will probably create a nice buzz if Steve Jobs were to open the next Apple event with the symbol "#Winning".
Bill Gates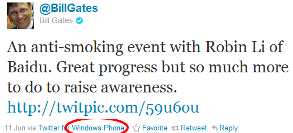 Bill Gates like Steve Jobs and Mark Zuckerberg is a different kind of celebrity, but we thought it will be really interesting to find out which phone he uses. Imagine the pride Apple, Blackberry or Android would have taken if he used one of their phones. But Mr. Gates is surely a smart man and plays safe by possibly being the only well-known person in the Twitterverse to use a Windows Phone.
Clearly the fight in the celeb world is between the iPhone and Blackberry with the Blackberry having a slight lead over its more beautiful counterpart. Perhaps both these brands should consider making super premium diamond studded or gold encrusted versions of their phones which will surely be snapped up by these ultra rich stars.