Celebrating India's 64th Independence Day With A Colorful and Delicious Tricolor Pulao
August 15, 2011, India celebrates its 64th Independence Day. Its an age beset with economic turmoil across the world and since we live in a global economy today, even a country like India is facing its set of challenges. However, just like we welcome and celebrate January 1 every year with hope and positiveness about the future similarly most residents of India and Indians across the world should think of today as a day to start anew and work towards shaping the India of tomorrow.
So, in keeping with the spirit of joy and festivity GlobalMasala in partnership with VeenasMarket presents a mouthwatering delicacy that's patriotic and delicious.
Tricolor Pulao
Serves 6
Ingredients
4.5 tablespoons Ghee (or vegetable oil), 1 teaspoon cumin, 5 pods green cardamom, slightly crushed
3 cloves, 2 inch cinnamon stick (Ceylon cinnamon if you can get it), ½ teaspoon saffron
2 cups white basmati rice, 1 green chili, sliced lengthwise into quarters
½ cup yellow onion –finely diced (a small onion or ½ a large one), ½ cup red bell pepper –finely diced
1 carrot, finely diced, 1/2 cup defrosted peas, ½ cup cilantro – coarsely chopped
10 whole cashew nuts, 10 whole almonds
Salt – 1 teaspoon or to taste
Rice
This can be made ahead of time and refrigerated.
Rinse the rice three times in warm water. Lay out the rice in a shallow dish and allow to dry.
Heat 2 tablespoons ghee over medium heat in a thick bottomed pot.
Once the ghee is hot enough (throw in a cardamom pod, if it just sizzles, the ghee is ready), add the cardamom, cloves, bay leaves and cinnamon. Stir and allow the spices to roast for 10 seconds or till you smell their aroma
Add the saffron, rice and a ¼ teaspoon salt. Stir gently till the rice starts clumping up, about 3 minutes
Add 2 cups of water and bring to a gentle boil before turning the heat to low and covering the pot
Remove from heat after 7 minutes or when the rice is just cooked. Keep covered and allow the rice to cool down to room temperature.
Vegetables
Roughly chop the nuts so they are all of a similar size.
Heat 1/2 tablespoon ghee in a skillet over medium heat
Once the ghee starts to bubble, roast the nuts for 5 minutes or till you can smell the aroma of the cashews. They should be lightly browned. Remove from heat and leave out to cool down.
Wipe the skillet if necessary, and heat another 2 tablespoons of ghee (could substitute with vegetable oil). You know the ghee is hot enough when it starts to bubble and a cumin seed thrown in starts to sizzle.
Add the cumin and after 10 seconds, add the onion and chili. Stir occasionally or till the onion is evenly light brown. This should take 5-8 minutes.
Add the vegetables and half the cilantro. Fold in with onions. Sauté till the bell pepper is cooked but still has a bit of crunch. Salt to taste.
Remove from heat and fold in with the rice. Transfer to a serving bowl. Garnish with the nuts and the remaining cilantro.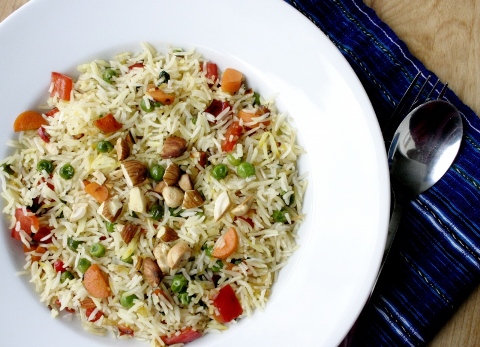 And finally, serve with plain yogurt and pickle or raita. Take your first bite of this fragrant and vibrant dish, close your eyes and savor freedom.
VeenasMarket is a one of its kind food site dedicated to Indian Cooking. Its founder Veena Prasad is originally from Bangalore and currently based in Seattle, USA from where she adds spice and joy to the people around her with her cooking. Checkout her blog for many more delicious recipes.