At DelhiPlanet Media (inspired by DailyPlanet from the Superman comics, see here) we are big fans of all major superheros and like most other comicbook fans the two biggest icons in this space are Superman and Batman. Both these characters from the DC Universe who work closely with each other as part of the Justice League are global icons with a following of millions from around the world.

Given their popularity it is but natural that any movie featuring these characters is a huge undertaking that requires many years to develop. Thus, its been three years since the last Batman movie released and five years since the last Superman feature hit the screens. This week though the first stills from the next the installments of these two movies were released and they have become major talking points generating a lot of buzz in the entertainment world. We take a quick look at how these movies are shaping up
Batman – The Dark Knight Rises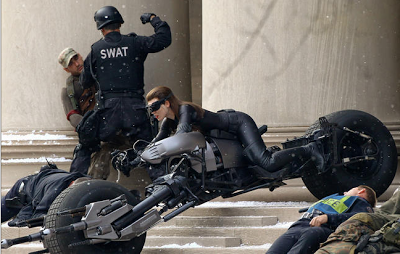 The final installment of Christopher Nolan's Batman film series which has been one of the most successful Batman franchises ever will release worldwide on July 20, 2012. Christian Bale will reprise the role of Batman/Bruce Wayne along with his supporting star cast of Michael Caine (Alfred), Gary Oldman (Commissioner Gordon) and Morgan Freeman (Lucius Fox). The villains this time will be Bane and Catwoman.
The role of Catwoman will be played by the Princess Diaries star Anne Hathaway who has termed this role to be her most demanding ever. A recent still from the movie featuring her riding Batman's bike received a poor reception with MTV terming it as "unflattering". Hathaway however clarified that just the single released image doesn't do justice to her portrayal of the character and that audiences will like what they see in the movie.
By all means this will be one of the most awaited movies for next year. It will however be quite an ask for it to beat the success of the Dark Knight which was taken to a whole new level thanks to the stunning performance of Heath Ledger as the Joker.
Man Of Steel
Unlike Batman, the Superman franchise has largely been in limbo ever since Christopher Reeve played the role in 1987 for Superman III which is one of the all time classic Superman films. Apart from the fact that good scripts for Superman movies have been hard to come by there has also been a constant problem of finding the right actor to play the main role.
Christopher Reeve came to personify Superman in human form and no other actor has been able to come close to replacing him. Tom Welling did a stellar job of playing Clark Kent for the TV Show Smallville for 10 years but even he donned the famous suit only for a few minutes in the series finale. Superman Returns which was the last Superman movie to be made with Brandon Routh in the lead role didn't do too well and the franchise was again suspended.
Plans to bring the film series back to life now seem to be underway with a reboot of the series planned for release in 2013. Titled "Man of Steel", the new Superman Movie will also be produced by Christopher Nolan and will star Henry Cavill in the lead role.
Audiences and Superman fans will eagerly await the previews of this movie. Cavill will once again be compared to Reeve and fans will hope for a different story and portrayal of the caped crusader as unlike other superheros the story of Superman's origins has been repeated many times over.