Two And A Half Men Gets Kutcher But Sheen Will Be Back With Anger Management
A couple of months back when Charlie Sheen was all over the news with his interviews and twitter rantings (which gave the world new hashtags such as #winning and #tigerblood) we evaluated whether he was winning or losing. At that point in time it was hard to say because their were both good and bad things that were happening with him. However now Charlie can finally have the last laugh as he won't be out of work for much longer.
As the new look Two and Half Men with Ashton Kutcher readies to hit the airwaves on September 19, Charlie has started preparations to star in a new sitcom titled "Anger Management", inspired from the 2003 movie of the same name. Sheen confirmed news about the deal with Joe Roth and Revolution Studios which produced the movie and will be backing the TV show and was quoted as saying
I chose 'Anger Management' because, while it might be a big stretch for me to play a guy with serious anger management issues, I think it's a great concept.
Anger Management which will be syndicated by the Lionsgate unit, Debmar-Mercury will most likely make its debut next year and it will be interesting to see whether it faces off against Two and Half Men which now stars Ashton Kutcher as the third major character(its reported that Sheen's character will be killed off). While Ashton is a great actor it will be hard for audiences to accept anyone else in a role where Charlie Sheen almost played himself for eight years.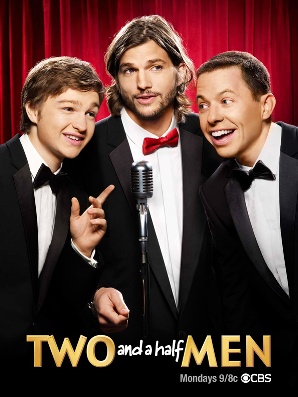 CBS recently released promotional images of the new look Two and Half Men with Kutcher standing in the middle, a spot that was always occupied by the child star Angus T.Jones in previous seasons. Now, that does make one feel that the 'half' referred to in the show will now be Kutcher and not Angus.
Well, whatever be the result it'll be interesting to see both Kutcher and Sheen (both of whom have a massive following on twitter) battle it out as they try and attract eyeballs for their respective shows.