Salman Khan, Shahrukh Khan and Aamir Khan, three of the biggest entertainers in the Bollywood film industry who have been around for more than two decades and surely plan to be around for the next 5-10 years as well. Each of these actors have consistently delivered the biggest blockbusters in Indian Cinema and most of today's youth have grown up watching their movies. Individually each one of them has a Brand so powerful that just a mere association of their name with a project is enough to ensure packed houses and tremendous audience interest for the first few days (although Shahrukh has a tendency to over expose himself).So what happens when there is a movie starring more than one of these mega personalities together.
Well, those occasions are what Indians like to call "total paisa vasool" (or completely worth the money). As one might expect given the stature of these actors and selectivity of the movies they choose to do, there aren't many occasions when they have worked with one another. In fact the last movie when two of three Khans appeared together on screen was more than 10 years ago. Three actors with at least two appearing together creates four different scenarios, so let's start by analyzing them individually.
Shahrukh and Salman Khan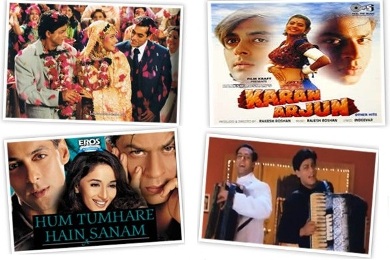 Both these Super Khans who also have the same initials and are no longer on friendly terms anymore were at one point of time the best of friends. During their years of struggle both of them supported one another through thick and thin which explains why between 1995 – 2002 they worked together in four movies.
Karan Arjun: This 1995 flick was the first movie where both the Khans worked together. It went on to become a major box office success and is the only movie where both the Khans had proper roles and spent a considerable amount of on-screen time together.
Kuch Kuch Hota Hai: Rated as one of SRK's all time classic movies, this 1998 mega-hit had Salman Khan play a vital supporting role in the second half of the movie. It was around this time that both the actors had started to mature and their on-screen chemistry was a treat to watch.
Hum Tumhare Hain Sanam: Even with a super star cast of Shahrukh, Salman and Madhuri this 2002 movie failed to have any impact at the box office partly because it took six years to complete and felt old and outdated by the time it was released. Like Kuch Kuch Hota Hai, Shahrukh had the main role in this movie while Salman's character played second fiddle.
Apart from the above Shahrukh also appeared momentarily alongside Salman in a guest appearance for Har Dil Jo Pyaar Karega which had Salman in the lead role (see here). Audiences around the world would love to see both of these actors alongside one another again but the possibility of that happening seems remote given their personal differences and feuds.
Salman and Aamir Khan
The mere mention of Salman and Aamir together brings to mind the one and only film where both these stars shared significant screen space with one another. The 1994 comedy riot Andaz Apna Apna is the only time both these actors have worked together and one of the few occasions when Aamir has shared screen space with any other prominent Khan.
Andaz Apna Apna didn't do well when it was released at the box office but become a cult classic on TV and Video given the brilliant performances by the stars and its appeal with the youth. The video above shows both the stars re-living moments from that film when Aamir Khan came as a guest for Salman's game show Dus Ka Dum. Salman and Aamir continue to be on good terms with another and one movie that is guaranteed to do really well if it ever gets made is a sequel to Andaz Apna Apna.
Aamir and Shahrukh Khan
Bollywood enthusiasts have never had the pleasure to see these two actors share screen space and its doubtful that it would ever happen, although it would be a treat to watch if it did. However, there was a brief moment way back in 1993 when Shahrukh and Aamir appeared together in the same frame along with Saif Khan, Rahul Roy and Sudesh Berry. This was for a movie called Pehla Nasha which had Deepak Tijori as the lead actor.
Finally, there has never been a moment when all the three Khans appeared together and its unlikely that there will ever be one. In fact, its a herculean task to even imagine a script where all of these three actors can be present together and for the director to make it work.
Are you aware of any other similar instances from the past? Share them with us and we'll include it in this feature.