At the prime of her life in the 1990's, Lady Diana Spencer or Princess Diana as she was fondly known was the most photographed woman in the world. Born into a royal blood line as a member of the Spencer family, Diana lived most of her life under intense media speculation, something that eventually claimed her life in the end. She breathed her last on 31 August 1997 when she was fatally injured in a car crash in the Pont de l'Alma road tunnel in Paris.
If it weren't for that eventful night, Diana would have lived on, turning 50 on July 1, 2011. To commemorate this event, Newsweek recently published a feature titled "Diana at 50" which aimed to imagine what her life would have been had she been alive today. The article is accompanied by artificial images created by designers and artists including snapshots of a hypothetical twitter (@realdiana, which in real life has been suspended) account. The cover of the magazine shows an anorexic, older looking Diana walking confidently with the Duchess of Cambridge – Kate Middleton.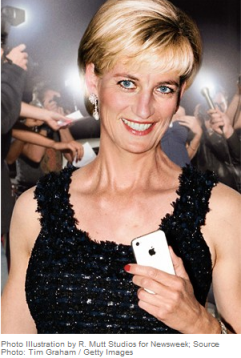 The feature written by the magazine's editor and Diana's friend Tina Brown who also wrote her biography (The Diana Chronicles) has come in for a lot of criticism mostly for the ghastly recreation of her appearance that resembles that of a ghost. Inside the feature though, Tina reveals a lot of details about what Diana's life would have been in 2011. She claims that Diana would have still looked great with a taut chin, strategic Botox shots and her bare arms buff from the gym. She would have been married twice more on both sides of the Atlantic choosing to settle down in New York as a trophy wife to some super-rich hedge fund guy.
As most people might expect if Diana had lived on, she would have spent a lot of time on her humanitarian efforts apart from spending time with her kids, a fact confirmed by Tina as well.
Diana would have been active very active on Facebook and Twitter having more than 10 million followers on the latter.

Tina also imagines that Diana would have stayed in close touch with Prince William and Harry although illiam's affection for Kate Middleton and her rising public adoration would have slightly perturbed her. Eventually, Diana would have become a loving Mother-In-Law who would have got along well with Kate's mother Carole Middleton.
Despite her lifestyle, martial and personal problems Diana was always a true humanitarian at heart who supported various causes and developed an intense interest in serious illnesses and health-related matters outside the purview of traditional royal involvement, including AIDS and leprosy. She worked closely with Mother Teresa often visiting various centers of the Missionaries of Charity in India and elsewhere, which is why people all over the world loved her. Surprisingly, both Diana and Mother Teresa passed away within a week of another.
What do you think about the Newsweek feature on Diana? Was it in good taste?