3 Superhero Franchises Who Deserve Their Own Movies – Wonder Woman, Flash & Justice League
The Superhero Summer of 2011 will soon be coming to a close when Captain America: The First Avenger releases later this month. Judging by the promos and the fact that it is yet another superhero origin based movie, it should ideally do well. So far among the movies that have been released this year, X-Men First Class received the best reviews (as featured by us in this article) since it had a good script and was quite an engaging watch.
It will now take almost an year for audiences to get a chance to watch the next set of big budget superhero movies with The Avengers, Spiderman Reboot and Batman – The Dark Knight Rises scheduled for release in the second half of 2012. All of these movies though will feature superheros who have made their debut with their own movie franchises, leaving out other popular characters in the cold. In particular people would be quite skeptical of watching another version of Spiderman starting from scratch.
Instead why don't the studios focus their energies on other popular superheros who have excellent story-lines around their origins. We explore some of them:
Wonder Woman
The Amazonian Warrior Princess, also known as Diana of Themyscira is one of most popular comic book characters which also epitomizes female power. She has an absolutely fascinating origin story which was brilliantly captured in the 2009, direct to video animated film Wonder Woman. Other attempts to showcase the character in flesh and blood have mostly ended in disaster or zero progress.
The only time the character was portrayed by a real person was in 1975, when Lynda Carter played the title role for three seasons till 1979. Thereafter finding the right actor to play the title role has always been an issue. Who do you think would make a perfect Wonder Woman?
The Flash

Flash on Smallville by konquerant
Perhaps one of the coolest and most human superheroes, The Flash too has an amazing story of origin and is surely much better and more hip than Spiderman. This character however has also had the same fate as Wonder Woman and despite multiple appearances on a number of popular media he has never been able to make it big either in the Movies or on Television.
The Flash, unlike other superheroes has many variants all of which have existed in various generations. Thus, Jay Garrick, Barry Allen, Wally West and Bart Allen all represent the alter-ego of Flash. The Flash has appeared in several popular TV shows such as Smallville (shown in the video above) and the Justice League where he is one of the founding members. Numerous references to the Flash have also appeared in the hit comedy show The Big Bang Theory.
Just like Wonder Woman, a TV version of The Flash was made in 1990 which wasn't very successful and lasted only for one season. Who in your opinion would be the best choice to play the Flash?
Justice League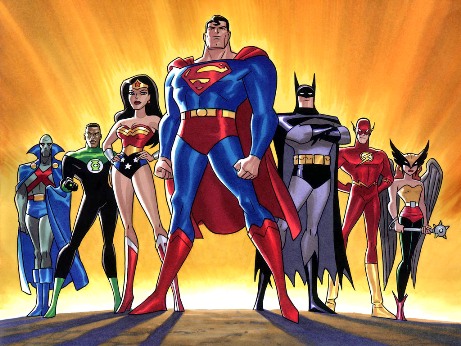 Imagine a superhero action movie in 3D starring Thor, Iron Man, Captain America and The Hulk (with all of them being played by the original actors of these franchises). Sounds mind blowing doesn't it. The Avengers releasing next year will apparently make this happen and this movie is bound to attract a great deal of hype and interest.
Now imagine, a movie starring Superman, Batman, Green Lantern, Wonder Woman and the Flash. These are the core members of the Justice League and a movie on this team, if made well can smash all records. Who wouldn't want to see these comic book legends next to one another in one movie, specially if the characters are played by A-list celebrities. It would be like a dream come true.
Which superheroes would you like to see in their own Movies? Let us know.