Remember those pre-teen and teen years that were full of dreams and aspirations about the things you might do you when turned 18 or 21. Going to school, hanging out with friends, playing sports, watching television and reading comic books used to be the favorite pass-time in the days before the explosion of the Internet, YouTube and Facebook. Irrespective of which country you grew up in timeless icons such as Superman, Spiderman, Batman were the undisputed favorites mostly among the boys. The other category of comics comprised of more human characters such as TinTin, Asterix and Archie.
Archie Comics featuring the perennial college students Archie, Betty, Veronica, Jughead, Moose, Reggie, Dilton and most recently an Indian character named Raj Patel bring back fond memories for most of us. It is also one of the very few publications from the past that is still highly popular today in its existing print format. Now, seven decades after its launch, Archie and the gang are finally making a trip to India in a double digest called Love Me Baby, Mumbai!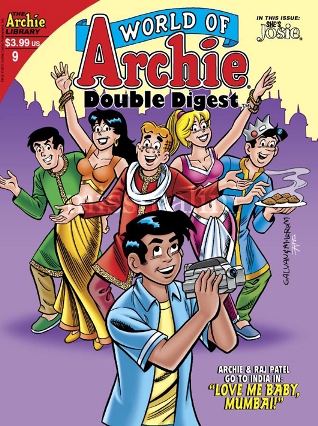 "Archie comics have entertained fans for several generations. We wanted to give our fans in India something they could relate to. The move is to bring in some Indian flavour to the comic. It will be the same Archie, the same Veronica and Betty but with a desi twist"
said Jon Goldwater, co-CEO, Archie comics. The plot of this new comic revolves around Raj Patel who dreams of becoming a filmmaker. The amateur's ITube(Youtube of the Archie universe) movie "Love Hate Triangle" that receives accolades from thousands catches the eye of Kunal Desai, an established Bollywood producer. This script written by Tanua Del Rio explores whether Raj can turn a love hate triangle into an epic film.
The characters spruced up in Indian attire will be dancing to Bollywood tracks. Archie will woo Betty and Veronica humming Ankhon Ki Gustakhiyan and Hum Dil De Chuke Sanam along with other tracks.
Now that surely promises to be a treat and is a great example of the West meeting the East in the Entertainment world (which is what GlobalMasala stands for). It would be great to see a proper movie on this script perhaps as a collaboration between Hollywood and Bollywood.