Deepika Padukone, Kareena Kapoor, Sonam Kapoor, Bipasha Basu, Priyanka Chopra, Katrina Kaif are probably some of the names that come to mind when one thinks of sexy, attractive and fit Bollywood divas. While their bikini bodies and curvaceous figures are able to draw a lot of attention today that wasn't always the case for some of them. In general, it has been observed that if a new entrant to Bollywood didn't come from a career in modelling or winning a recognized beauty pageant then they weren't really in the best of shape before making it big.
Take the case of Sonam Kapoor who was nowhere close to her current figure when she was assisting Sanjay Leela Bhansali with Black in 2005. As a teenager growing up in Singapore, Sonam touched a weight of 90 kgs thanks to diet largely composed of junk food such as pizzas and ice-creams. It was only on returning back to India that Sonam under the guidance of her mother Sunita Kapoor decided to shed the flab and underwent professional training to lose more than 30 kgs in a few months.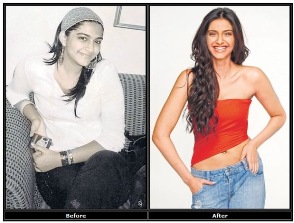 Sonakshi Sinha who struck gold with the super success of Dabangg in 2010 also lost a good 30 kgs (and she's much shorter than Sonam Kapoor) before and after her debut. Unlike Sonam, Sonakshi was always a pampered kid who never paid any heed to the advice of her parents regarding her health and wellness.
I loved my sedentary lifestyle, I loved my food and made every possible excuse to not exercise. Then suddenly, I found my mom had stopped nagging me completely. While it felt great initially, I gradually found something missing. My conscience started pricking me. This was around the same time when I was finishing my fashion designing course.
the svelte Bollywood sensation confessed in Interviews post the success of Dabangg. Sonakshi also thanked her co-star Salman Khan for her success and for getting her on the road to fitness. That comes as no surprise given the macho Khan's penchant for fitness and which is perhaps the only social message present in his films (his explanation for taking his shirt off in every movie)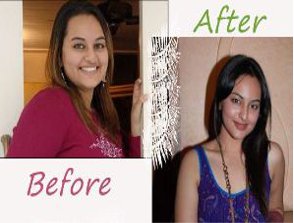 Finally, one of the reigning queens of Bollywood Kareena Kapoor (reported to be charging more than 6 crore for a movie) also began her career as a chubby actress. Starting from her debut in 2000 with Refugee right up to Jab We Met in 2007, Kareena wasn't anywhere close to the zero sized figure that she sports today. Kareena went through an image makeover for Tashan and her fascination for fitness developed after she began dating Saif Ali Khan.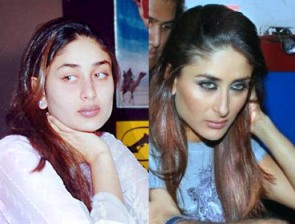 While there are no reports that clearly indicate whether these actresses went through the knife to develop their looks its difficult to accept that thought as the truth.