Born and raised in Canada under mixed influences from her Canadian and Italian heritage she grew up listening to Celine Dion, Shania Twain, Tina Turner, Whitney Houston and as she cheekily admits even the Backstreet Boys. Inspired by Celine Dion and her soul stirring voice, she went on to train in western classical and opera music also spending some time under the tutelage of Prof William Riley (trainer to Celine Dion, Whitney Houston and many others).
A chance message by an Indian guitarist on Myspace, a few trips to India and a YouTube Video later she is all set to be one of the biggest sensations in the Bollywood film industry. Natalie Di Luccio is all of 22 and already has the world at her feet. So far she has sung for movies like Band Baaja Baaraat, Chalo Dilli and Rockstar while also performing on various shows alongside the Grammy award winning musical genius AR Rahman. Her unique combination of killer looks and an amazing voice makes you want to compare her to Justin Bieber (Young, Canadian and an internet sensation) or think of her as the next Katrina Kaif, but guess what her response was to that question.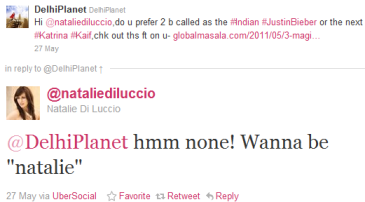 Rightly so, since her success from her renditions of popular Hindi Songs is due to her hardwork, talent and commitment to learning and singing in Hindi. Tu Jaane Na (her popular YouTube video which she almost didn't post) happened because she continued practicing Hindi while in Canada last year. Natalie's Indian influence during her early years was limited to her having an Indian Aunt but she has often said that she feels very much at home in India (read here).
We recently caught up with gorgeous Bollywood sensation for a candid chat delving into her personal and unexplored side.
GlobalMasala (GM): What have been the most memorable moments for you from the past few months?
Natalie: Performing in Delhi at the Pacific Mall was a really memorable and emotional moment since I was able to meet and interact with my fans in person for the first time. To have them sing along and connect with me through my music was a real high.
Working with Rahman was also a magical experience and something I will never forget and hope to continue doing. I have been studying, singing and working so hard at a career since I was a child. My mom sacrificed a lot for me accompanying me to singing, piano, acting, dance lessons, theatre/choir rehearsals, and auditions etc, I owe her everything today. It's been a long journey and to be appreciated by someone as talented as A R Rahman… it really makes all the hard work worth it. When I performed Kahin To, it made me reflect on my whole journey and felt a bit teary eyed on stage.
GM:That's really inspirational. Let's move over to knowing you a little more. Who are your favorite Hollywood actors?
Natalie: George Clooney, Leonardo Di Caprio, Johnny Depp, Natalie Portman
GM:Those are surely the popular choices for many. Your favorite Bollywood actors
Natalie: I think Priyanka Chopra is a phenomenal actor. I'm also a big fan of anything Aamir Khan does.
GM:Aamir is terrific, watch out for Delhi Belly. If a Genie were to grant you a dream Bollywood film debut as an actress whom would you choose as your co-stars?
Natalie: Imran Khan, Ranbir Kapoor or Hrithik Roshan
GM:Which Indian food items do you enjoy the most?
Natalie: Sabudana Khichdi, Butter Chicken, Chicken Tikka, Mutton Rogan Josh
GM:Yummy, those are all truly delicious. What are your other interests apart from singing and acting?
Natalie: I love learning about different religions and cultures. Travel is a big interest. I try to experience as much of a city I can whenever I travel. I also enjoy playing piano and writing music. I am a big movie buff too. Sports wise… I use to play baseball as a child and loved it…I am not to sure today though. Honestly, I have never taken a big interest in sports but I enjoy watching ice hockey, soccer and now cricket!
GM:We rule the world in Cricket, see here. Our sister network, DelhiPlanet recently did a feature called "What does Real Beauty Mean To You"? You are quite gorgeous yourself, what are your thoughts on this?
Natalie: To me "Real Beauty" is someone with a good heart. Someone who gives without expecting to receive and someone who is strong enough to forgive. Someone who's smile brings a smile on my face and who carries a positive aura around. To me, that's real beauty.
GM:Finally, this may make or break the hearts of many of your Indian male fans but are you Single or Taken?
Natalie: I'm single
Natalie surely has what it takes to make it big in the world of glamour and entertainment and we wish her the best of luck for the road ahead. You can checkout all her videos on her YouTube Channel and enjoy our special tribute to her efforts of bringing a certain freshness and international appeal to Bollywood music below.