YouTube Disco, LeanBack and MyYouTube – Cool Extensions You Didn't Know About
Never in their wildest dreams would Chad Hurley, Steve Chen, and Jawed Karim have imagined that their small startup which started above a pizzeria and Japanese restaurant in San Mateo, California would one day become a revolutionary social phenomenon that would produce super-celebrities and make 13 year old kids into millionaires. As of May, 2010 YouTube has over 14 billion videos on its network with 35 hours of video being uploaded every minute.
Google's buyout of YouTube will certainly count as one of their best acquisitions ever, with other noticeable one's being Android and Doubleclick. Most people are only aware of the main YouTube site which more or less acts as a search engine that allows you to find the videos you are looking for. However, as with all other Google properties YouTube too has a number of cool extensions which can elevate your experience of the site. For music buffs who use the site to listen, discover and share new music there is YouTube Disco which in their own words is YouTube's Music Discovery Project. Simply visit the site, enter the name of your favorite artist or song and the site automatically generates a playlist of similar songs that have the same DNA as your chosen one (similar to how Pandora works)
Then there is YouTube's Google TV experiment called YouTube Leanback which allows you to experience YouTube in a television like manner. The site has a full-screen interface with minimal controls. Users can search for a video which then opens up in the finest quality available occupying the whole screen and also generates a playlist with similar content. The concept works best if your computer is connected to a widescreen TV and if you already have an idea of the kind of content you wish to watch.
Finally, there is MyYouTube, which is the video network's latest solution in collaboration with leading celebrities in every country. MyYouTube allows one to subscribe to your favorite artists' channels and get their latest videos delivered straight to your YouTube homepage. It's a quick and easy way to stay updated on their music videos and behind the scenes news.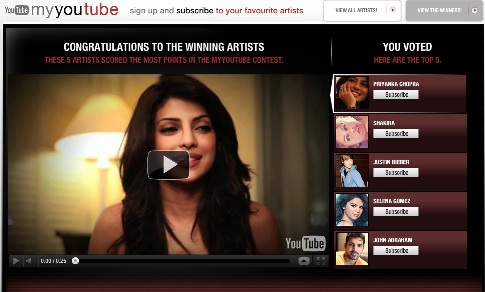 Apart from the above solutions which are largely entertainment centric, there are also other business and education oriented products such as the YouTube Partner program which allows original content creators to monetize their YouTube Videos as well as YouTube Edu which showcases Videos and Channels from college and university partners of YouTube.