Sourav Ganguly's Post IPL Projects – Beating up Shahrukh in Dabangg 2 and KBC in Bengali
If it weren't for the great Sachin Tendulkar, Sourav Ganguly (or Dada as he is fondly known) would have been among the top Indian cricketers and greatly revered across the nation. In the past two years its been painful to watch a player of Ganguly's class who along with Tendulkar had formed the most successful opening pair in One Day Cricket to sit out of most professional cricket tournaments and even be over-looked for a candy floss tournament like the IPL.
Ganguly however is known for his resilience and strength and always manages to make a comeback after almost being on the verge of fading into oblivion. Post IPL 4, Ganguly seems to have realized that his cricketing days are probably behind him now and given the sympathy that people across the country have for him this year it will be wise to establish himself in an alternate career. Ganguly surely has a competitive and fiery streak (as shown by his famous shirt flinging episode, see here) and so his next move is going to be in the world of entertainment.
Sourav to Star in Dabangg 2
While this news is unconfirmed, reports suggest that Ganguly will make his film debut in the sequel to Dabangg and will star alongside Salman Khan. Apparently the movie has some sort of a cricket element attached to it which is why Ganguly was approached for the role. The grapevine also indicates that Dabangg 2 will have a Shahrukh Khan look alike villain who will be thrashed like crazy by Salman and Ganguly as both of them are on poor terms with the media obsessed self-proclaimed badshah of bollywood.
Sourav to host Kaun Banega Crorepati in Bengali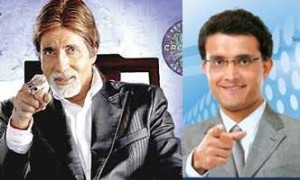 While the prospect of Sourav thrashing the hell out of Shahrukh Khan is mouth-watering the probability of it being confirmed is still many months away. What has been confirmed though is that Prince of Kolkata (as Sourav is also known) will be hosting the Bengali version of Kaun Banega Crorepati. TOI indicates that Sourav will start rehearsing for the show immediately after the conclusion of IPL 4 and will commence shooting from June 2, 2011.
It was always a treat to watch Sourav when he played Cricket and once again Indians across the world will be eager to see Sourav in his new avatar in the entertainment industry.