Ranbir Kapoor, the only young male scion of the Kapoor family may or may not be as talented as he considers himself to be but one thing's for sure, he certainly knows how to wow the leading ladies in the industry. Almost every year since his debut in the movie Saawariya in 2007 he has been dating different leading ladies in the Bollywood film industry.
The eight film old star who has become one of the leading young actors in the industry can now be seen regularly on Indian television as a result of his corporate endorsements and advertisements, most prominently featuring in a Seinfield type of avatar for Tata DoCoMo. Ranbir's ex-girlfriend list as of 2011 comprises of Bollywood divas such as Sonam Kapoor, Deepika Padukone, Katrina Kaif and most recently Nargis Fakhri. Lets take a closer look at the young Kapoor's playboy adventures
Ranbir and Sonam
Ranbir and Sonam Kapoor have known each other since their childhood days as their parents and Bollywood superstars of yesteryears Rishi Kapoor and Anil Kapoor were good friends. Both of them later made their film debut's for Saawariya which bombed at the box-office but nevertheless provided Ranbir and Sonam with good launching pads for their careers.
Both of them broke up with one another soon after their launch with Sonam even trashing Ranbir on an episode of Koffee with Karan.
Ranbir and Deepika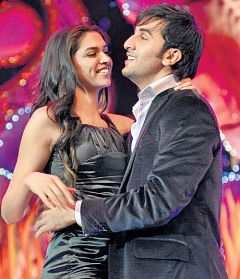 Around the same time that he was dating Sonam, Ranbir was reported to be in a serious relationship with Deepika Padukone. Their romance bloomed when they were shooting for Bachna Ae Haseeno and went steady for close to two years before they called it quits in mid 2010. Deepika is now in a very public relationship with Siddharth Mallaya (as reported by us here) who is the heir to the UB empire and definitely much more loaded than Ranbir.
Ranbir and Katrina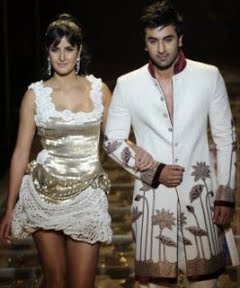 By now its clear that Ranbir dates most actresses that he works with. So after dating his leading ladies in Saawariya and Bachna Ae Haseeno, Ranbir's next target was Katrina Kaif. After her break-up with Bollywood heartthrob Salman Khan, Katrina worked alongside Ranbir in Ajab Prem Ki Ghazab Kahani and Raajneeti. That led to an year long relationship between the two which only ended a few months ago.
Want to guess why they broke up? Because Playboy Kapoor started working on a new movie titled Rockstar.
Ranbir and Nargis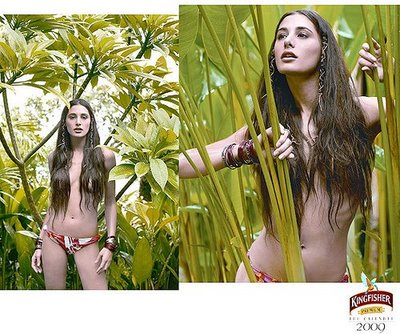 Ranbir's latest acquisition is reported to be Nargis Fakhri, an Paki-American model featured extensively as part of the Kingfisher Calender photo-shoot. Nargis will make her film debut alongside Ranbir in Rockstar which is set for a mid 2011 release.
Latest rumors suggest that Ranbir is no longer with Nargis and has now turned his attention to International Models. He is reportedly going out with yet another strikingly beautiful Kingfisher Model named Angela Jonsson.