Question. Name this famous personality who was born as Stefani Joanne Angelina Germanotta in New York City, has two Guinness world records to her name and is placed at number seven on the Forbes annual list of the World's 100 Most Powerful Women. Not such an easy one to guess unless of course you were also told that Stefani also has close to 34 million followers on Twitter and is known for her highly unconventional and at times outrageous sense of fashion.
At just 25 years of age, Lady Gaga today is a pop culture icon and quite certainly is the Madonna of the 21st century. Recognized as an extremely creative person and someone with an amazingly sharp marketing brain, she is credited to be a singer-songwriter, performance artist, record producer, dancer, businesswoman and activist. These achievements however pale in comparison to what she is known for best, a fashionista with an outré sense of style.
What has been her most outlandish dress so far is debatable but here we feature three of her costumes that are truly one of a kind and in some cases quite unthinkable.
The Meat Dress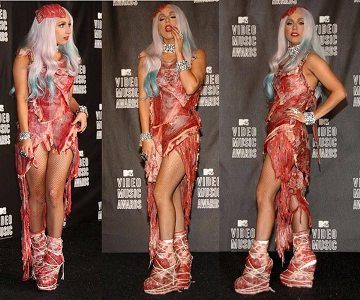 In September, 2010 at the MTV Video Music Awards Lady Gaga wore a dress that was made of 100% real meat, smelled sweet, weighed about 25 kgs and was completely natural (see here for details). The dress which was designed by Franc Fernandez was actually a political statement against the "Don't Ask Don't Tell" policy of the US government.
All Lace No Face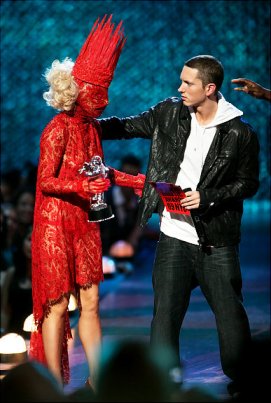 Once again at the 2009 MTV Video Music Awards, Lady Gaga collected her award wearing a striking red lace outfit, including a mask covering her entire face. At this ceremony, Gaga wore five different outfits all of which were eye-popping and unconventional. At some stage, the mask did prove to be uncomfortable and was taken off by Gaga.
The Cocoon
At the 2011 Grammy Awards, Lady Gaga arrived encased in a giant egg carried by four half-naked attendees. This time however, the outfit made sense as it tied into her new single Born This Way, which was premiered live on the show. The pop star stayed in the egg (which was fitted with an oxygen tank and a fan) for many hours before emerging from the egg wearing a sheer gold coloured skirt and cropped top, with her hair tied up in a style reminiscent of Madonna's Blonde Ambition tour era. (Read here for more )
These outfits are however just a tip of the iceberg. To view the top 30 craziest outfits of the star watch the video below: