Bollywood celebrities featuring in mainstream Hollywood movies is the ultimate blend of the West and the East and makes for experiences that can be cherished by global audiences. There have however been only a few instances when such a cinematic experience has been produced. A few that come to mind are Irrfan Khan starring with Angelina Jolie in Mighty Heart, Naseeruddin Shah starring with Sean Connery in League of the Extraordinary Gentlemen and Amrish Puri starring with Harrison Ford in Indiana Jones and the temple of doom.
None of the Indian actors listed above are Superstars however and its hard to recall a movie when a super-celebrity from Hollywood worked with someone similar in Bollywood. In 2011, this will change with the release of the 4th installment of Tom Cruise successful Mission Impossible series titled Ghost Protocol. Written by J. J. Abrams, Andre Nemec and Josh Appelbaum, the movie is set for a December release and boasts
of international locations such as Prague, Dubai, Moscow, and Vancouver.
Josh Holloway of TV series' "Lost" joins as a new member of Ethan's IMF team, and Anil Kapoor plays, Brij Nath, the main antagonist for which Ethan will be entrusted to bring down
.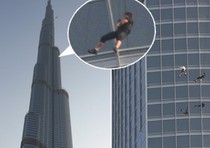 The image above shows a scene from the movie where Tom Cruise is performing a stunt for the film. The building scene is none other than Burj Dubai which is the tallest building in the world. The fate of Mission Impossible 4 will be crucial for Tom Cruise, because if it does not do well it would probably be the end of the MI franchise.