IPL Magic – Shahrukh Khan playing cricket with Gavaskar and Shane Warne
After the tremendous high following the ICC Cricket World Cup victory by the Indian cricket team (see here to read about the celebrations) there was a feeling that the DLF IPL Twenty20 competition would not see much interest. However as the past few weeks have shown, those notions have proven to be completely false. Infact the IPL is even bigger than the world cup given that it brings together two of India's biggest passions, Bollywood and Cricket and takes it to the world stage .
Cricket Legends like like Shane Warne and Adam Gilchrist play for teams owned by bollywood divas Shilpa Shetty (Rajasthan Royals) and Preity Zinta (Kings XI Punjab) respectively who attend all their team games and add glamor to the already exciting game format. Shane Warne is apparently a big fan of Shahrukh Khan who owns the Kolkata Knight Riders team. Sample these tweets about Shane's admiration for the badshah of bollywood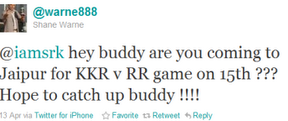 The IPL brings together players from most of the cricket playing nations in the world (with the exception of Pakistan and Zimbabwe) to be a part of teams named after Indian cities, thus literally converting them into Indians for a duration of 6-8 weeks. Australian fast bowler Brett Lee who plays for King Khan's team even has a recorded duet with noted playback singer Asha Bhonsle (see here) during one of his previous visits to the country and it was about him falling in love with an Indian girl.
The IPL is bigger than the world cup in many ways and nothing proves that more than this amazing scene of Shahrukh Khan making a fool out of himself while playing cricket with Sunil Gavaskar and Shane Warne after the comprehensive victory of his team over Warne's Rajasthan Royals.
Click here to read about what happened when Sachin Tendulkar and Aamir Khan saw an IPL match together.