The Bollywood brat turned actor, painter and humanitarian, Salman Khan (read our earlier feature, The Different Shades of Salman Khan) hasn't been working out since Dabangg and that tempted some gossip mongers to think that the Schwarzenegger of Indian Cinema had become fat. The flamboyant and cheerful actor somehow got whiff of this and immediately decided to set matters straight.
Making the most of his twitter account (@beingsalmankhan), Salman tweeted that he was no where close to being fat even though he admitted that he hadn't worked out since Dabangg. Apparently his role required him to look slightly beefed up but as the climax of the movie showed, he still had cracking biceps and 6 pack abs despite not hitting the gyms as often as he does. Salman tweeted pictures of himself (the image for this feature was tweeted by him) and also wrote that he plans to get much fitter to prepare for his role in Bodyguard opposite Kareena Kapoor.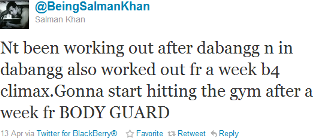 Post Dabangg, Salman will be seen in Ready opposite Asin in 2011. The movie is slated for a June release and marks Salman's return to the big screen as a character named Prem (as his fans and followers would be able to appreciate).