When Salman Khan did a whole dance number with his shirt off (see here) for the movie Pyaar Kiya to Darna Kya in 1998 it started to create a trend for bollywood actors to work out and get the ripped look. Thereafter when Shahrukh Khan took it a level further by getting 6 pack abs at the age of 40 for Om Shanti Om (see here), having a ripped look kind of became mandatory specially for young actors and new entrants into the industry.
What was a mainstream Hollywood trend is fast catching on in the world of Indian Cinema and even television. Salman Khan was the original trend setter for Bollywood and he's been followed by Hrithik Roshan and Shahid Kapoor who are both known for their fabulous bodies and super dancing abilities. In 2011 Hrithik Roshan will be seen in a new sleek looking ripped look for his movie Zindagi Na Milegi Dobara (ZNMD) which also stars Farhan Akhtar and Abhay Deol.
The movie is said to be on similar lines as Dil Chahta Hai although the first poster of the movie seems to very similar to the Hollywood flick Lords of Dogtown.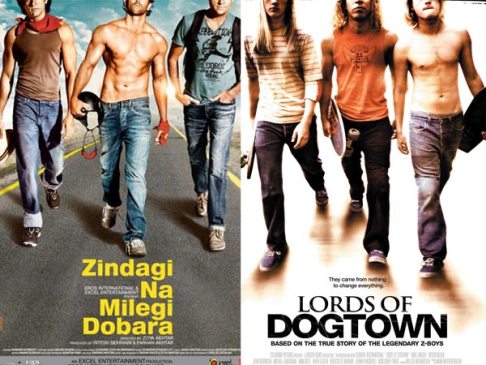 While Hrithik will be seen in ZNMD in the second half of 2011, Bollywood enthusiasts around the world will keenly await to see Aamir Khan who will be playing a negative role in Dhoom 3 facing off against Abhishek Bachchan and Uday Chopra in 2013. This news which was earlier considered to be a rumor was recently confirmed to be true especially after Aamir himself talked about it on many Indian news channels. Similar to his look in Ghajini, Aamir is rumored to be a sporting a slightly different ripped look for Dhoom 3.