What three terms come to mind when you hear the name "Salman Khan" – bollywood superstar, spoiled brat and trouble maker. Majority of people aware of Salman Khan and his celebrity status in India would associate these terms with the actor known for his flamboyancy and playboy looks. He is also perhaps one of the very few actors in both Hollywood and Bollywood who has never been married despite his success, fame and much desired qualities. Known for his chauvinism and ability to do movies made for the masses, Salman Khan is actually not what he showcases himself to be.
His co-stars and friends swear by him and people close to him confess that he is actually one of the nicest celebrities in the Indian film industry. Thus, three terms that actually define the superstar are Actor, Painter and Philanthropist. The last two terms may come as a surprise because they are the unknown and less public shades of the actor. Salman is a highly talented painter and a couple of years ago one of his paintings sold for a whopping sum of one crore rupees or $250,000.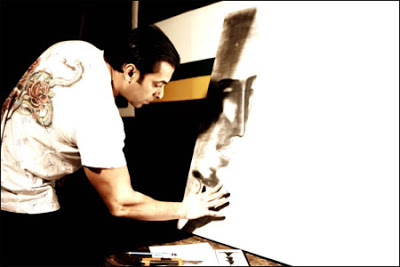 In the past few years Salman has also started playing a major role in lending his support to charitable causes, by establishing the Salman Khan Foundation also known as the Being Human Foundation. Given his painting skills and influence in the industry, Salman uses the money he makes from selling his paintings and organizing star-studded events (like the one below) to fund the activities of his foundation.
In 2011, Salman will be seen in Ready starring Asin Thottumkal and Arya Babbar as well as BodyGuard starring Kareena Kapoor. Given Shahrukh Khan's diwali release of RaOne audiences can expect some big Bollywood action in the second half of 2011.