Hugh Hefner, founder and Chief Creative Officer at Playboy Enterprises is probably the 'Emperor of Good Times'. He has lived a life that most people don't even dream about it, seen and done much more than Charlie Sheen or any other flamboyant personalities and yet has remained free of frequent controversies.
It comes as no wonder then, that many of us would love to know the details of his life. Is it a non-stop party or is it a mix of fun and work. Well, thanks to Twitter Hef (as he is popularly known) gives us all the details we would like to know about his life and his girls. Hugh Hefner has become a really avid tweeter off late and reading his tweets surely makes you feel that he lives a fantastic life.
After tonight's movie, the girls & I will be going to the Kandy Masquerade party, conveniently located in our back yard.

— Hugh Hefner (@hughhefner) February 27, 2011
Hef and his fiance Crystal Harris (@crystalharris) share a lot of details about their celebrity lives including pictures that are posted on twitter. So if you're wondering what a night at the Playboy Mansion feels like, then the answer is that it looks something like the picture below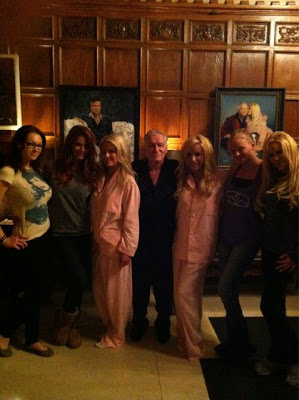 Hef and Crystal surely demonstrate a strategy that could put Paparazzi Photographers out of work as they themselves willingly share the details of their grandiose lives for all their followers to see.