The Global Masterchef Phenomenon – Get To Know The Judges From MC India And Australia
It started as a competitive cooking show in the United Kingdom in 1990 produced and broadcasted by BBC Television. Two decades later it had become a worldwide sensation expanding to 35 countries and 200 territories. A look at the global Masterchef Phenomenon and the judges who power the show in India and Australia.
In 1990, English film director, screenwriter and television producer, Franc Roddam conceptualized the idea of a television show based on amateur cooking. In the original series which ran for 11 years till 2001, three amateur cooks took part in each episode, with nine heats leading up to three semifinals and a final, in which they competed for the title of "MasterChef". Their task was to cook a gourmet, three-course meal in under two hours (the current format of Masterchef Finale episodes globally). Contestants could cook whatever they liked, though there was a price limit on ingredients. "Everyday" ingredients and equipment were provided for them, in addition to which they could bring in up to five "specialist" ingredients or utensils.
In 2000, after the lead anchor of the show for the past decade Loyd Grossman, left, BBC struggled to find a suitable replacement leading to the closure of the show in 2001. Four years later, Roddam and other producers of the original show decided to bring it back on-air after radically overhauling the format. A brand new series under the title "Masterchef Goes Large" debuted in 2005 with the name going back to just Masterchef by 2008. In that year, it was allowed for the Masterchef trademark to be exported to other countries if they wished to replicate the concept for their markets. Australia happened to latch on to the opportunity with Network Ten introducing MasterChef Australia on April 27, 2009. The rest as they say is history.
The Australian version of the show became one of the most watched shows in the country capturing 20 percent of the nations population at its peak. It even rivaled prime-time sporting events like the Australian Open and Rugby League, an achievement which left producers of the UK version stunned. The main reason for the success of Masterchef Australia was that it was it was a drastic make-over of the no-frills UK version, coming really close to mirroring other successful reality shows like American Idol, X Factor and The Biggest Loser. The show placed greater emphasis on contestants' emotion, the use of dramatic music, over-the-top judging showdowns and cliffhanger editing rather than the food and cooking itself.
Despite the criticism the Australian format of the show went on to create the global Masterchef phenomenon with 35 countries adapting it to their local culture in addition to syndicating the Australian series with local language subtitles. Even the UK version was changed in 2011 to make it similar to the Australian one much to the irritation of British audiences (read more here).
welcome to australia. we push our election campaigns forward so we can watch final of masterchef&move our "national day" so we get a holiday

— maddie de vizio. ✌ (@UmTheCollective) January 25, 2013
Masterchef Australia, can thus be considered as the pioneer in creating the Masterchef phenomenon. In India, for instance the show was a huge hit among the young English speaking urban middle-class population. This inspired the country's local television channels to introduce Masterchef India with a goal to tap into the myriad of cuisines and food diversity that existed in the country. Masterchef India did well in its first season as it was hosted by the famous Bollywood actor Akshay Kumar who was a small-time chef in Bangkok prior to starting his Bollywood journey.
With any show that runs on a standardized format, a lot of its success depends on the personality of its hosts. Lets then briefly explore the chefs and judges who present Masterchef Australia and Masterchef India and get to know them a little better.
Masterchef Australia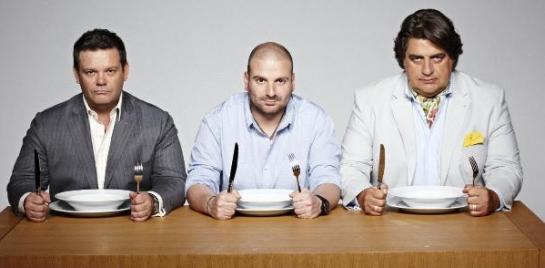 Thanks to the immense success of Masterchef Australia, Gary Mehigan, George Calombaris and Matt Preston have become global celebrities. These three form the trio of judges who host the main Masterchef series with at least one of them also hosting its various spin-offs such as Celebrity Masterchef and Junior Masterchef.
Gary Mehigan did his apprenticeship and spent his formative years of cooking in London during the 80s. He also trained at two of the most elite dining rooms in the UK at the time, viz. The Connaught and Le Souffle in London before moving to Melbourne in 1988. He then worked at a number of well-known restaurants and hotels in the city before starting out on his own as a restauranter. Gary now runs two award-winning restaurants in Melbourne, the Fenix (opened in 2000) and "The Maribyrnong Boathouse"
George Calombaris is an Australian Greek who started his career at the Hotel Sofitel in Melbourne under Raymond Capaldi. After his apprenticeship, he teamed up with Capaldi and Gary Mehigan to start Fenix, where he worked for two years. He later won many professional cooking contests and was rated as being one of the Top 40 chefs of influence in the world in 2004. Today, George owns seven restaurants in Melbourne and one in Mykonos, Greece besides being a accomplished cookbook author and television host.
Finally, Matt Preston is the only non-chef judge on Masterchef Australia. He is however a distinguished food journalist and food critic who has written for several Australian and British publications as a food correspondent. Similar to Gary, Matt too is British by birth moving to the land down under in 1993.
Masterchef India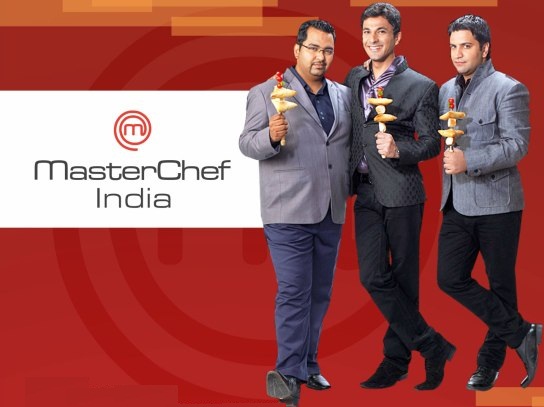 For any new concept to take off in India, it is almost vital to have the presence of a Bollywood star as the host of the show. Most, if not all popular reality shows in India often fall prey to this phenomenon. The result being that the show becomes a marketing platform for new film launches benefiting everyone except the audience. The first season of Masterchef India used such a setup with Bollywood actor Akshay Kumar hosting the show along with two professional chefs in Ajay Chopra and Kunal Kapoor. For the second season however, Akshay was replaced with well-known Indian American chef Vikas Khanna bringing the show back to its original roots.
Chef Ajay Chopra and Kunal Kapoor are the Executive chefs at the Westin Mumbai Garden City and Leela Kempinski Gurgaon respectively. Both of them are graduates from Hotel Management courses in India and winners of numerous culinary awards. Apart from being judges on the first two seasons of Masterchef India, they also share another thing in common, both of them have interacted with celebrity chef Gordon Ramsay. Chef Ajay worked with Mr. Ramsay when he was the head chef at the Mint Leaf restaurant in London while chef Kunal was a guest judge for an episode of Masterchef USA which is hosted by chef Ramsay.
Lastly, chef Vikas who hails from Amritsar but is now based in New York City is a renowned Michelin Starred chef and restaurateur. His selection as the third judge for the second edition of Masterchef India was a noticeable achievement for the channel given his range of culinary skills and his powerful American network where he is nothing less than a celebrity.
Overall, the global Masterchef Phenomenon not only brought back an interest in cooking delicious foods at home, it also had a positive effect on the number of people enrolling for food sciences and cooking courses. Not to mention, advertisers who paid a premium to associate themselves with the show saw an increase in sales and positive brand resonance as a result of its success.
Are you a fan of Masterchef? Share your thoughts about what makes you like the show and which country's version do you find the best?