Hollywood Versus Bollywood – Who Raked In The Riches in 2011?
GlobalMasala is proof of the fact that the world is becoming increasingly globalized with each passing day and the Internet has been highly instrumental in making this happen. During this first year of our inception we showcased some amazing collaborations of the two biggest entertainment industries of the world and highlighted the many instances of Hollywood artists wanting to work in Bollywood projects.
Whether it was capturing moments of Hollywood stars singing Hindi songs, interviewing a Canadian dame who became a youtube sensation in India, or just the beehive of Hollywood news makers who visited the country towards the end of 2011, it all just signaled the start of a new era in the world of entertainment.
However, despite the casual meetings and exchange of pleasantries between the icons that represent both of these woods a truly global partnership still seems a few years away. This is largely due to vast difference that exists between both the industries in terms of their approach to film-making, the sophistication and professionalism of all the artists, budgets and most importantly artist salaries. To understand this better and give you an idea of how vast the difference is, lets take a look at the celebrities who raked in the most moolah in 2011 from both sides of the globe.
Hollywood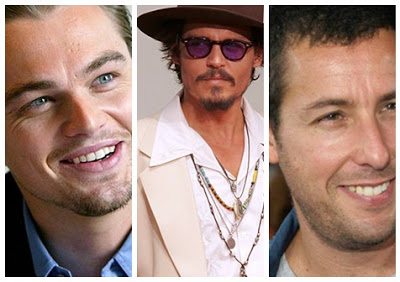 Leonardo Dicaprio, Johnny Depp and Adam Sandler were among the highest-paid actors in 2011 each raking in excess of $40 million or

200 crores. Dicaprio who delivered two massive hits in Shutter Island and Inception during the latter half of 2010 was the highest paid actor netting a cool $75 million+ during 2011. He's expected to do continue his good-run into 2012 as well with the release of J.Edgar into International markets.
Johnny Depp who puts his own spin on every role and whether he's voicing a chameleon or lurching around as Jack Sparrow, his movies bring in the big bucks, came in second with paycheck of $50 million. Up next for Depp: a film version of the cult television show Dark Shadows directed by Tim Burton
Bollywood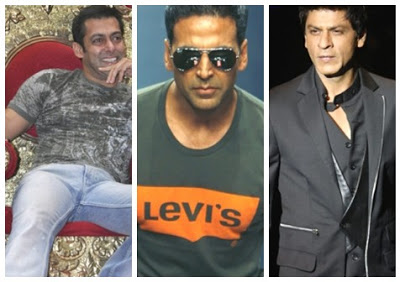 With the creme de la creme of Hollywood easily earning in excess of

200 crores per year, Bollywood almost seems like its poor cousin with the highest paid actor taking home only about a third of that amount this year. Salman Khan who inspite of his lack of acting skills delivered two of the years biggest hits with Ready and Bodyguard earned about

50 crores during the year or just about $10 million dollars. For his next film Ek Tha Tiger he's reportedly charging

32 crores, and at two such movies an year he would still earn only about $15 million an year equaling the salary of Sandra Bullock (the ninth highest paid actress in Hollywood).
Akshay Kumar and Shah Rukh Khan round up the top three of Bollywood with the former coming in second and actually beating the extremely money-minded SRK in terms of moolah earned. Akshay charges about

15 crore per movie but earns much more through brand endorsements and hosting TV shows likes Masterchef and Fear Factor India.
Thus, the significant difference in benefits given to artists between Hollywood and Bollywood will most likely keep Bollywood film makers away from A-list Hollywood actors, but the reverse is not true. Even the superstars from B-town consider themselves lucky to get an offer in mainstream Hollywood movies as apparent from the brief role played by Anil Kapoor in MI 4.