Celebrities are good looking, stylish, famous and very wealthy with jobs that are demanding but a lot of fun and come with attractive benefits. However, contrary to what many people think, the most popular celebrities don't become super-rich only because of the fees that they get from their main jobs, its the stuff on the side that actually fetches them the big bucks. Brand endorsements, Advertisements, Guest Appearances and in the case of Bollywood even dancing at the weddings of business magnates and politicians is what earns the celebrities their moolah.
While Hollywood has a vast talent pool of actors, Bollywood has a relative scarcity in that regard which works out perfectly for superstars like Amitabh Bachchan, Shahrukh Khan, Aamir Khan and even the popular cricketers. It is believed that Aamir Khan tops the endorsement chart with a

14-crore annual fee, followed by Shah Rukh Khan, who commands

8-10 crore yearly. Thus it is the Brands and Advertisers who actually make the stars rich. Only an Apple or a Google can afford to not have any brand ambassadors since for them its their product and the people who use them who are the real heroes. Following up to our last segment on Celebrity Ads which featured Katrina Kaif, Rihanna and Pepsi's cricket world cup brand ambassadors (read here) we showcase some recent commercials starring celebrities that have made a splash around the world in the past few months.
Beach Tweet starring Sofia Vergara and David Beckham
At close to 1.1 million views, the sultry Sofia Vergara (star of Modern Family) looks sizzling hot in this diet Pepsi commercial that also stars David Beckham for a brief moment. The ad stands out since its funny and ironic at the same time and is centered around two superstars viz. Twitter and Beckham
The ending in particular is awesome.
"Someday" Fragrance Perfume by Justin Bieber
The teenage heartthrob and Twitter sensation who sings nothing but super mushy songs liked only by hormonal teenage girls, appears in an advertisement for his own line of perfumes for women.
If you are trying to figure out what the ad means, then here's how Master Bieber explains it:
In the commercial, [fan/costar Dree Hemingway's] someday was meeting me. So when she sprayed on the perfume, I appeared in the room and we floated off into this place … that's what I perceive it as
Not sure if that makes any sense, but try telling that to the teenage girls who would go crazy if they got their hands on a "Someday".
Angelina Jolie – Louis Vuitton Ad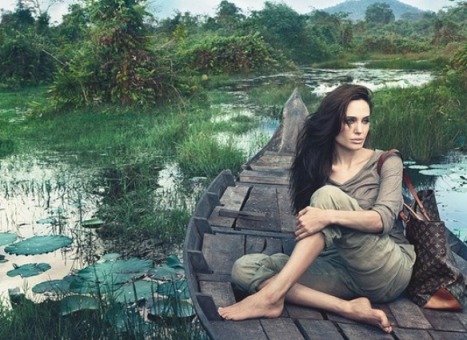 This has to be one of the most authentic ads ever, in fact its a real picture that has only been airbrushed by the brand. Shot in Cambodia, the native country of Angelina Jolie's first adopted son Maddox, it features her in a very real moment sporting a bag that is six years old and actually belongs to Angelina. That means the bag isn't available in Louis Vuitton stores yet although they might launch them soon.
Did you enjoy these commercials? Aware of any recent commercials featuring Bollywood celebrities, if so let us know so that we can showcase them in our next feature.