Stay Cool This Summer With These Refreshing Indian Drink Recipes
Unless you're reading this from the southern parts of Australia, New Zealand, South America or Africa it is likely that you must be preparing for what maybe a really scorching summer this year. While summer can be a lot of fun it can also cause dehydration or excessive consumption of soft drinks both of which are not good for the body. The real fun of summer is in trying out a number of different non-soda based drinks which are natural, refreshing and extremely healthy for the body.
The mystic land of India which has one of the lowest soft-drink consumption levels in the world offers a number of traditional Indian beverages made of natural ingredients which are delicious and healthy. Most of these drinks are made of water, milk based products and in some cases are natural products like green coconut water. It comes as a big surprise that something as nutritious as coconut water hasn't been tried by weight conscious celebrities such as Kim Karadashian.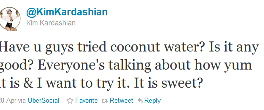 In this feature we shall explore three extremely delicious and refreshing Indian Drink Recipes which will surely make your forget all about consuming soft-drinks.
Mango Lassi
Mango Lassi is a refreshing sweet yogurt drink perfect for a hot day. It is made from mangoes and yogurt and is similar to a mango smoothie. It is extremely easy to make and takes at most 5 minutes or even less time if you already have sliced mangoes. The recipe below shows you how to make this sweet temptation
Chatpata Nimboo Pani (spiced lemonade)
This drink is an Indian variation of a lemonade and is one of the most popular drinks in the country. So much so that Coca-Cola and Pepsi rage a battle over their versions of this drink in India (Battle Over Nimbu Paani).
Here is a quick recipe for the drink:
Ingredients
Juice of 4 lemons
Sugar/honey to taste
2 tbsps Jaljira powder
Chilled water
Crushed ice
Lemon slices to garnish
Procedure
Squeeze all lemons to remove juice and strain the juice to remove seeds. Pour into a large jug.
Add all the remaining ingredients to get desired strength and sweetness and mix well.
Serve in chilled glasses garnished with lemon slices
Gulab Ka Sharbat (a rose sharbat)
Rose Petals even if eaten raw are healthy, taste good and even freshen the mouth. On a hot summer's day, a tall, frosty glass of Rose Sharbat can really cool you off. Rose sharbat has become such a popular drink that the concentrate for it is now available in most supermarkets, making it extremely easy to enjoy the drink.
Otherwise if you wish to create your own concentrate using original rose petals, the recipe can be found here.
What other non-carbonated drinks do you enjoy? Let us know and we'll try to concote something interesting.